Deltamarin and GTT receive ABS Approval in Principle for a new LNG-fueled Aframax vessel design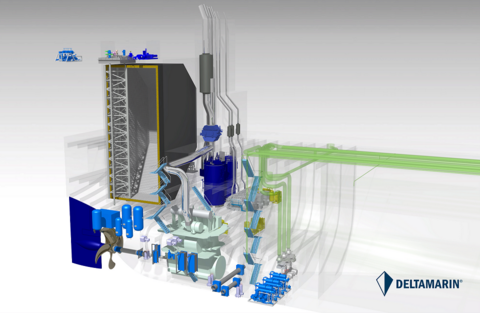 Deltamarin and GTT have received Approval in Principle (AiP) from the classification society American Bureau of Shipping (ABS) for the LNG fueled Aframax tanker design. The AiP was received at the Gastech 2021 exhibition in Dubai.
The new design provides increased autonomy while also reducing carbon emissions, providing greener and more efficient solutions for the industry. The vessel will meet the current and future environmental targets by introducing a well-studied and genuinely clean-fuel technology ship, incorporating advanced GTT Membrane-type LNG tanks and Deltamarin's expertise in developing fit for purpose vessels.

In close cooperation with GTT, Deltamarin studied various arrangements to find the optimized size and placement for the LNG containment system on Aframax. Energy efficiency of the vessel was studied with the latest simulation tools together with a holistic approach, providing not only a vessel using LNG as fuel but also the best available efficiency with low emissions in this vessel size class.
"The approval from ABS certifies that the onboard integration of the membrane fuel tank solution is technically feasible for an LNG-fueled tanker and that it complies with all safety regulations. The new design provides a solution that complies with environmental regulations adopted by the International Maritime Organization (IMO) until 2030. Compared to a conventional oil-fueled tanker, this new LNG-fueled tanker design reduces CO2 emissions by at least 20%. It also offers increased autonomy without reducing the cargo volume." concludes GTT on their press release.

The development done in cooperation between GTT and Deltamarin is the third of a vessel type that has been designed with a holistic approach to overall efficiency and optimized for certain sea routes while considering hull form, propulsion, LNG containment system and power plant configuration.
See more pictures and read the full press release here.