AFMI 2021 reveals opportunities for sustainable development across Africa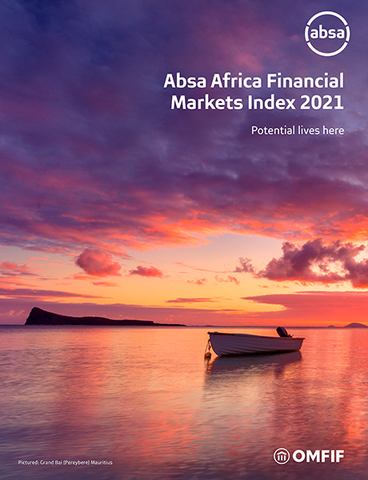 Monday 25 October 2021 – Vol.12 Ed.43.1
Commentary: African markets must improve ESG integration
Absa Africa Financial Markets Index 2021
The AFMI report assesses 23 countries according to six pillars. Pillar 3 scores on the conduciveness of the regulatory environment for local and foreign investment, gauged through tax incentives, reporting standards and market transparency. On average, scores fell by 8.2 points. This is partly due to the introduction of new ESG indicators, scoring countries based on policies that support the development of sustainable markets.
Read the full commentary on the website.
Meeting: ESG-centred investment post-Covid-19
Wednesday 27 October 09:00-10:00 BST
The economic disruption caused by Covid-19 has led to calls to reset the global economy along fairer and more environmental lines. OMFIF and CME Group are convening a panel to examine the new landscape following the pandemic. The discussion will explore the macroeconomic background, commodity drivers and risk management, booming exchange-traded funds, derivative solutions for hedging and portfolio diversification and how investors can find solutions to align with their values.
Register to attend here.