BIMCO's SNOW: US September retail sales hit 7-month low at USD 535.9bn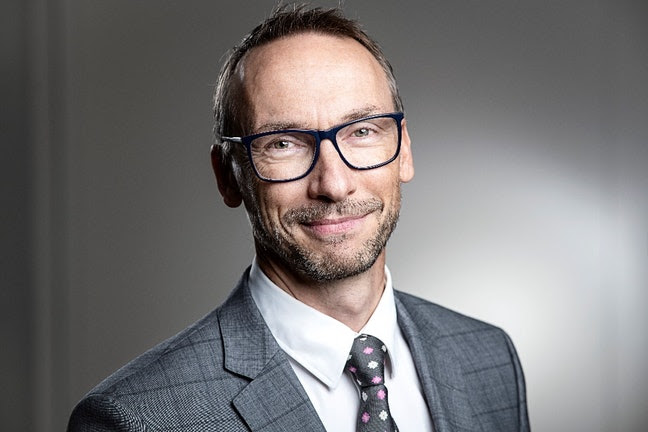 and
Singapore's September bunker sales fall to 15-month low
Bunker sales in the world's largest bunkering hub fell to 3.94 million tonnes in September, the lowest level since June 2020 and a 6.7% drop from September 2020. Compared to September last year, the largest drop is registered in sales of low-sulphur fuel oil (LSFO), down 10.9% from September 2020 at 2.58 million tonnes. In contrast, high-sulphur fuel oil (HSFO) sales have risen 6.7% compared with last year to 996,250 tonnes and thereby just short of 1 million tonnes.
The fall in bunker sales matches the fall seen in the number of ships calling the port of Singapore. In September, 4,534 cargo carrying ships arrived at the port, the lowest number this year and a 14.1% drop from September 2020. The ships were on average slightly bigger, however, with the total capacity calling in Singapore falling by 10.7% compared with September last year.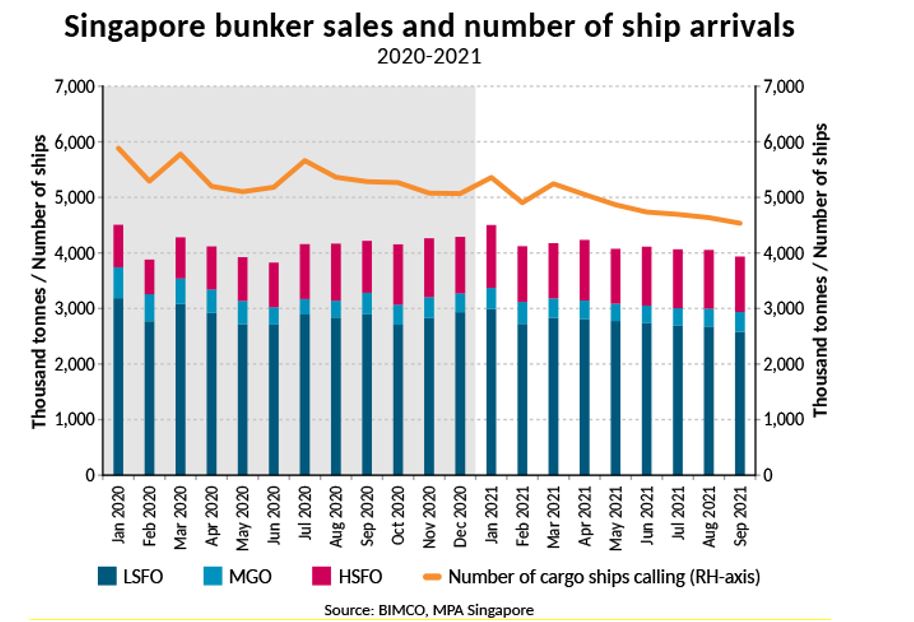 Overall, in the first nine months of this year, total bunker sales in Singapore are at almost the exact same level as they were last year, up by just 0.6% at 37.3 million tonnes. Hiding behind this relatively flat number is 26.0% growth in sales of HSFO in the first nine months of this year compared with the same period in 2020, rising from 7.4m tonnes to 9.4m. The corresponding fall in volumes that mean overall sales are flat, is the 1.2m tonne drop in sales of LSFO (-4.5%).
The higher HSFO sales have meant that the LSFO share of total bunker fuels in Singapore has fallen from above 80% at the start of 2002 to 75% in September 2021. This reflects a higher share of the fleet having scrubbers fitted. As of the end of September, 4,301 ships have had a scrubber fitted, equivalent to 4.2% of the fleet. However, when measured in deadweight tonnes the share is a much higher 23.0%, as larger ships are more likely to have a scrubber installed due to their higher consumption of fuel making for a better scrubber investment case. In DWT, a 25.7% increase in the total capacity equipped with a scrubber has been recorded, a 105.0m DWT rise to 502.0m DWT.
US September retail sales hit 7-month low at USD 535.9bn
US retail sales fell to USD 535.9 billion in September, their lowest level since March 2021, and marking the fifth month-on-month decline in retail sales. The 7-month low is partly due to pandemic-induced government spending, aimed at fuelling consumer demand, winding down while spending on services has recovered some of its lost share of consumer spending. In the second quarter of the year, spending on food, accommodation, transport, and recreation services was back to levels recorded in Q2 2019.
Despite the month-on-month falls, US retails sales in September this year were still 12.5% higher than September 2020 and are more than USD 100 billion above what they were in 2019. In the first nine months of the year, US retail sales are up by 19.0% compared with the same period in 2020 and up 20.6% from 2019. By this time last year, the loss in retail sales during the second quarter – at the height of the pandemic – had been made up for.
September's USD 535.9 billion retail sales place September 2021 in eighth place on the list of highest US monthly retail sales ever recorded and, before the past year's high sales, would easily have beaten the previous record held by December 2019 when sales stood at USD 526.3 billion. The many months of exceptionally high retail sales have clogged up supply chains and although easing sales should therefore be good news, the currently very high levels still mean there is little end in sight for the problems affecting warehouses, hinterland transport, ports and container ships.
"The US inventory to sales ratio remains very low compared to pre-pandemic years. This is almost entirely due to the strong sales, as inventory levels are currently only slightly lower than what they have been in recent years. However, for the inventory to sales ratio to remain stable, inventories should have grown at the same pace as sales. This has not been the case," says Peter Sand, BIMCO's Chief Shipping Analyst.
"The current supply chain crisis means it will take many months for inventory levels to be back at comfortable levels compared to sales. BIMCO expects this ratio to remain higher than its pre-pandemic level despite the end to direct government stimulus measures. Retail sales will however likely remain higher than their pre-pandemic levels due to strong private savings and a change in consumer behaviour," Sand says.