Long Live Chios, Long Live Greece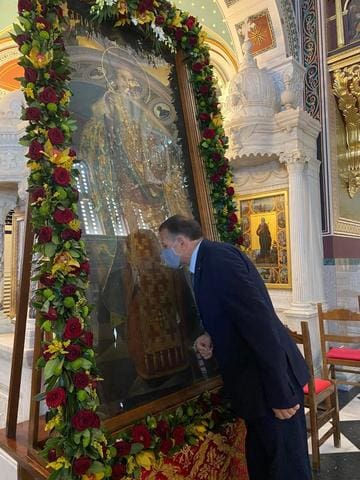 Today 109 years ago on the 11 of November 1912 the then Royal Greek Navy liberated Chios, the Island of martyrdom from the Ottoman yoke in a brief amphibious operation with the famous landing of marines at Karfas beach south of the capital Chios. It coincides with Chios' patron Saints Day, Minas, Victor and Vikentios and divine liturgies and celebrations take place all over the island as well as in many other Greek Cities.
The president of Chios Marine Club, Captain Antonis Pitsilos, paid homage at the Piraeus' cathedral of Saint Spyridon earlier on this morning sending also a message to Greek, European and World leaders all over Planet Ocean to respect the circumstances that Greece and Europe suffers from Turkey in sending and allowing Migrants to cross over to the Greek Aegean Islands and Chios in particular, an issue this medium has extensively covered since its "inception", not to say provoking events which might lead to uncontrollable situations with respect the EEZ of Greece and its islands, as well as in  the entire Central and East Med region.
Moreover one can see the expanding Migrants issue all over, to Italy, Bulgaria, Spain, Malta, the UK, USA, Poland – the latest events are more than alarming, and we take the opportunity to ask the EU and NATO to stop forthwith these Turkish actions which destabilise not only the region but the world at large… thus avoiding another fiasco!
From Massacre to Liberation; following the Massacre of Chios by the Ottomans in 1822 which alerted the Europeans and inspired Eugène Delacroix with his famous painting in 1824, it was a turning point bringing together Great Britain, France and Tsarist Russia to help liberate the Greeks and their lands.
Worth to remind you of Greece's Bicentennial, the Greek War of Independence 1821 – 2021 and the events  – conferences, presentations and debates taking place all over Planet Ocean.  The latest one in London,  "History has a Face", was more than memorable, including a lot of points mention above.