Decarbonization and New Technologies dominated the Bureau Veritas Hellenic Marine Technical Committee Meeting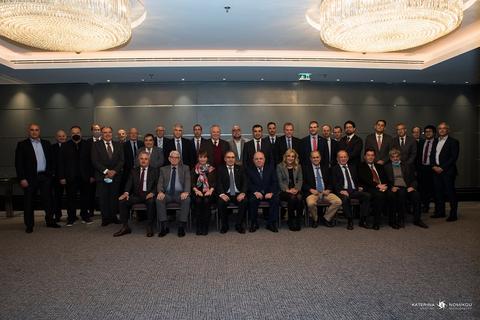 The 33rd Hellenic Marine Technical Committee Meeting of Bureau Veritas Piraeus was held on the 18th November 2021 at the Grand Hyatt Hotel, physically after two years of imposed restrictions due to the evolution of the COVID-19 pandemic. The meeting was hosted by Mr. George Andreadis, Marine Chief Executive of Bureau Veritas Greece and was chaired by the Committee Chairman, Mr. George Sarris, President of Enterprises Shipping & Trading S.A. Over 30 members participated, primarily the Technical Directors of Greek Shipping Companies along with senior members of Bureau Veritas office in Greece.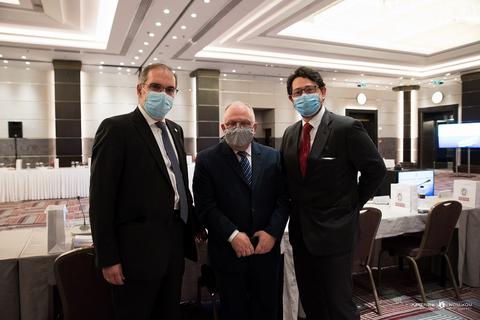 The meeting commenced with the introduction of six new members, Mr. Evangelos Candiotis, Fleet Manager of Enterprises Shipping & Trading S.A., Mr Panagiotis Damianakos, Technical Manager at Cosmoshipn Management S.A, Mr Antonis Georgantzis, COO at Latsco Marine Management Inc, Mr Dimitris Kostaras, COO at Conbulk Shipmanagement Corporation, Mr Anastasios Proakis, Technical Manager at Goldenport Shipmanagement Ltd and Mr Andreas Spertos EVP Technical Director at Maran Gas Maritime Inc.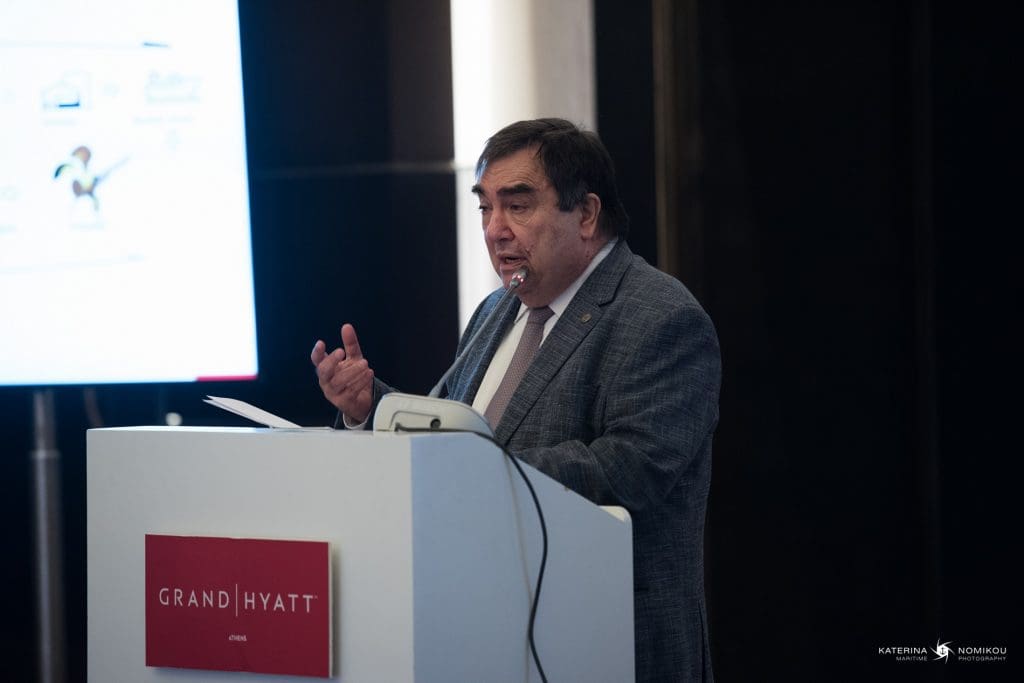 Mr. George Andreadis welcomed all the members and subsequently the presentations followed. The round of presentations opened with Mr. Vassilis Dimoulas, Technology and Innovation Manager for Greece, Cyprus and Malta who made a brief but thorough Regulatory update, looking at IMO MSC and MEPC developments as well as newly introduced BV notations related to the hot subjects of decarbonization and sustainability. He was followed by Dr John Kokarakis, Technology & Business Development Director of Hellenic, Black Sea and Adriatic Zone Bureau Veritas who made a detailed analysis of the EU decarbonization legislation and its impact on Shipping. The first part of the meeting closed with Mr Bill Stamatopoulos, Business Development Manager of South Europe Bureau Veritas Marine Fuel Services who shared with the Committee Meeting
members the latest experience and valuable lessons learned during the numerous pilot projects run by BV VeriFUEL for using biofuels on board.
Consequently, the second part of the meeting commenced with Mrs Tiphanie Jeanperrin, Digital & Excellence Director – M&O Digital, Solutions & Transformation Department Bureau Veritas Marine & Offshore, whose presentation about the digital initiatives of Bureau Veritas and the multiple ways they can assist significantly in our clients' everyday operations raised the interest of the audience, resulting in numerous insightful questions. The Technology and Innovation Department team followed with Mr Vassilis Dimoulas and Mr Konstantinos Chatzitolios, Project Development Leader for Greece, Cyprus & Malta analyzing the impact of the EEXI & CII on the world fleet. This internal study performed by the department analyzed the DCS results of 2019 and 2020 in depth for various shipping sectors and subsectors. The results highlighted what ship types and sizes may be more challenged by the regulations and discovers what are the enablers to obtain a good CII rating. Finally, guest speaker Mr Giulio Gennaro, Technical Director of Core-Power (UK) Ltd made a presentation entitled : "Marine Molten Salt Reactor : zero emission power at sea".The meeting concluded with a lengthy and lively discussion further to questions that derived from the
subjects presented during the meeting.
Commenting, Mr. Andreadis stated "2021 retains numerous characteristics of the previous year as COVID-19 pandemic is still in progress, with apparent effects in our professional and personal lives. Bureau Veritas has nonetheless ensured the smooth progress of operations through the use of technological and digital solutions offered. In Piraeus we turned the obstacles of pandemic into opportunities and took initiatives to evolve our services.
The Piraeus Remote Survey Center, launched back in April 2020, is presently one of the most active RSC's of Bureau Veritas, with almost 1,000 surveys already completed remotely over the past 19 months.
We created and strengthened the Technology & Innovation Department that focuses on identifying opportunities for JDPs, pilot projects and cooperation agreements in new technologies, cyber security and digital application.
On the major subject of sustainability, we invested time and effort to perform impact studies of the new IMO regulations, offered webinars on the subject and initiated AiPs and JDPs on energy saving technologies and new fuels. Also, BV Piraeus colleagues, namely Dr John Kokarakis and Mr Konstantinos Chatzitolios, are involved in the IMO correspondence groups as consultants to the French Flag.
Finally it is worth mentioning that the first contracts of the RESTART YOUR BUSINESS WITH BV service in M&O have been awarded by a Greek Shipping company and the project was completed with good success.
The months and years ahead appear to be challenging due mainly to climate change-related regulatory issues and initiatives both in International and European level. Energy transition is crucial and the proper way forward is key. Greek shipowners are firmly committed to environmental protection and carbon-free shipping. Thus, our mission in BV is to assist you on your pathway towards decarbonization.
Our commitment to prioritize our clients' needs walks hand in hand with our continuous efforts to ameliorate day by day the service we provide.
The challenges of today are the reality of tomorrow"