The BDI (Baltic Dry Index) lost 23 points since yesterday and now stands at 2,522; on a weekly basis same was down 61 since last week' 2,605 losing the 2,600 points threshold. In search for Peace in Ukraine to avoid spill over and World War III, but this requires leaders and not morons to change the mindset. Same applies for Covid's anathema, now entering its third year. John Faraclas' daily and weekly recap:
The Capes BCI was down 82 points to 1,887 and on a weekly basis minus 718 from 2,605 on 18 March losing the 1,900 to 2,600 points threshold. CATION!
Panamaxes tried to balance the overall losses but could not make it despite the daily rise of 34 points going over and above the 3,400 points threshold: 539 points up from 2,874 last week conquering the 2,900 to 3,400 points threshold…
A bit of a daily hiccups for the Supras' BSI now at 3,020 – down 13 points but a helpful 98 plus points since last week's 2,922 which brings the Supras over and above the 3,000 points threshold.
Rich pickings for the Handies' BHSI now at 1,782 – up 13 and a "hefty" 120 plus since last week when same clocked 1,662 going over and above the 1,700 points threshold.
Still a buoyant dry market but let us see its consolidation this summer – May to August 2022…
Instability for the Wets; the last published BDTI (Dirties) and BCTI (Cleans) stood at 1,112 and 933 – up 19 and down 28 points respectively. On a weekly basis both were down; the Dirties 15 and the Cleans 11 from 1,127 and 994 points respectively. A MUST for the Cleans to go over and above the 1,000 points threshold…
The WTI was up US$ 1.66 at US4 113.90 and on a weekly basis same was up US$ 9.20 from US$ 104.70 (18/03). We reiterate the view that the WTI shouldn't be a cent above US$ 49.99; end of the story. No excuses whether there is a war in Ukraine or not, as even before the despicable set-up …err scam with Ukraine, Planet Ocean was facing an energy "crisis"… We have always opted for the Alternative Sources of Energy we insist that we all proceed. Obviously by following this safe environmental option AND reality, Big Money Will Change Hands.
The Geopolitical situation is getting from worse to worse and as mentioned in the preamble, if we don't curb this Ukrainian mess we will regret it for at least fifty years. The existence of Atomical, Biochemical and Biological arsenals in many countries can lead to a point of no return. Add blackmail and see what you get…
In this current Ukrainian despicable mess, we reiterate the view that we have a "both to blame collision" as we say in Marine Insurance. Unfortunately Eyes are Wide Shut: a "Never Mind" attitude prevails; humanitarian catastrophe, but who cares; environmental catastrophe, but who cares; political and social catastrophe, but who cares, health mess, but who cares? WHO? Displaced people, mainly Ukrainians – by 90 centum, over Ten Million people are displaced, but who cares for MIGRANTS following the way the EU in particular succumbed to Turkey's Erdogan blackmail and lately Russian's Putin sending them over to Poland via Belarus (before the war begun); Sex and Child Trafficking, but who cares… An unending reality… Add the scam with energy, as we all knew and read that almost all secret services of many nations knew of what Putin was up to… Energy, food et al shortages in 2022 is a humiliation of all these so-called leaders as their cronies – the business hooligans as we have branded them nearly a decade ago in all our reports and recaps have created. Where are the supposed to be in place contingency plans for energy, for medicine, for food, Eh??? Calling a fast one against the public will backfire and Nemesis this time will hit and humiliate them worse than ever before; study our past reports and see what we mean. This mess in Ukraine is a Collective Guilt, a stigma for our society…
Watch out Turkey's behaviour and involvement in the Ukrainian mess trying to broker Peace; hpocricy at its best! Watch out Turkey's behaviour towards Cyprus and Greece and stirring up the Balkans and Middle East, not to mention Central and East Med and the Middle East – Syria is an example.
In the Far East the North Koreas' Kim Jong-un continues the ballistic tests, testing the nerves of everybody in the region and beyond, yet another proxy provocation of Beijing's leadership. CAUTION.
CAUTION for Indo – Pakistani relationships too; you never ever know what might happen…
Mind the outcome of Ethiopia's civil war… Tigray's despicable situation must never ever happen again… Shame…
After Abenomics we might witness Abeatomics given that former Japanese PM Shinzo Abe thinks of Nukes and its importance; watch this space!
In the Middle East Peace procedures and friendships evolve…
On the Covid Anathema we are already witnessing the next big wave as new cases are tenfold. In the United Kingdom we had over a million in a week… Lifting the physical distancing and masks protocols as well as opening the market for a fistful of Dollars "offers" the virus the ability to spread all over.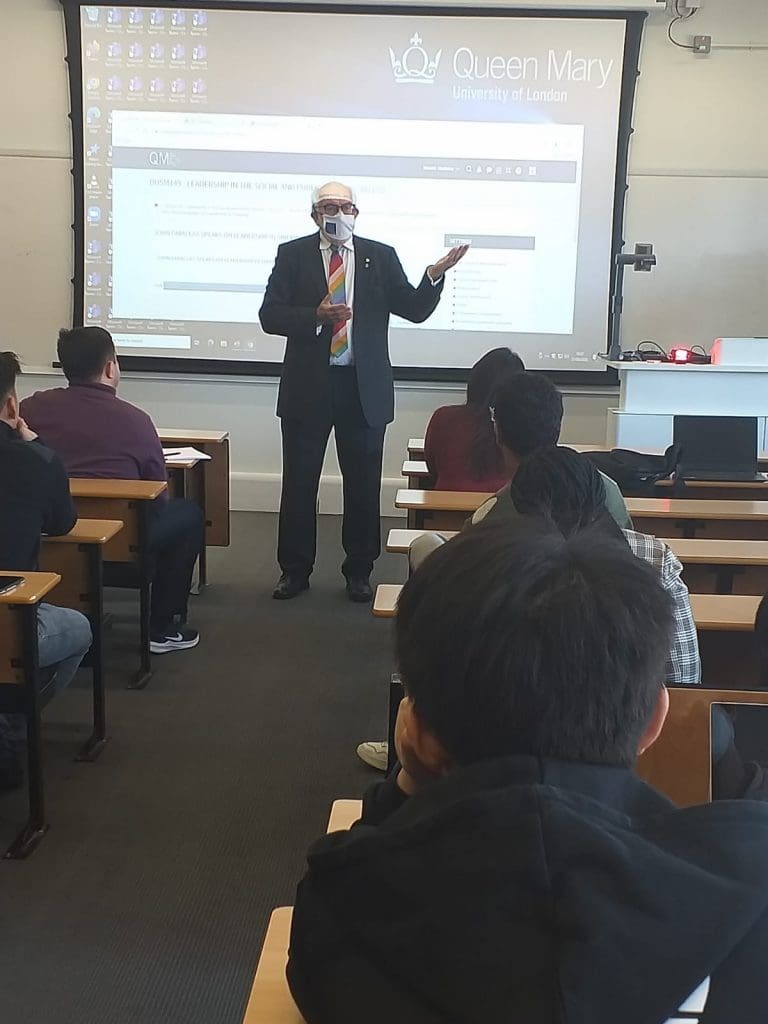 On another tone and note we were honoured once again to deliver last Monday (21/03) another lecture on Leadership at Queen Mary University of London focusing on the Ukrainian mess to post graduate students in one of Prof Markopoulos' classes.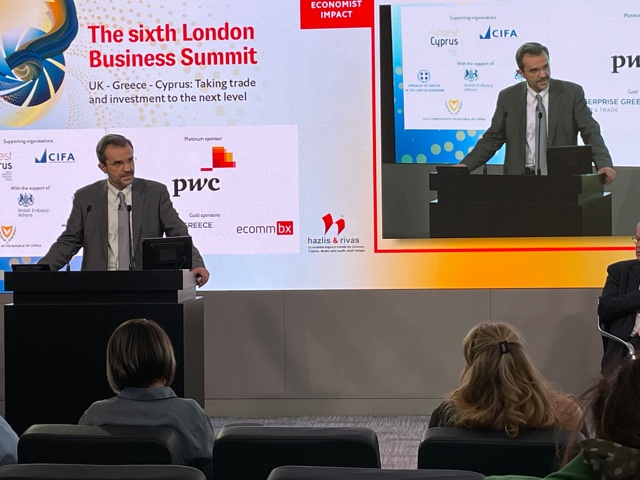 Afterwards we attended the very well organised Sixth London Economist's Business Summit UK – Greece and Cyprus on "taking trade and investment to the next level". A full house at the London's Stock Exchange auditorium with excellent speakers from Greece and Cyprus. The event's moderator John Peet, political and Brexit Editor of the Economist did more than well. A very touching moment when speaker Kostas Axarloglou, dean and professor of international business and strategy at Alba Graduate Business School, the American College of Greece, referred to Ulysses P. Kyriacopoulos who passed away the previous day on his immense contribution to HR, business, and furthering education. Coincidentally, the deceased was a classmate and friend of mine in Anargyrios and Corgialenios College of Spetses. Many questions from the audience lead to interesting debates and discussions. Excellent organisational skills by the Hazlis & Rivas team. An excellent summit on all counts and given Covid's interference during the last two years, it was great to see many friends from Greece, Cyprus and London attending. Our question was on the usage of the alternative sources of energy.
Viewers can download our video here: https://www.dropbox.com/s/jwq0eb4cg1pl14m/Economist%20The%20Sixth%20London%20Business%20Summit%20Interviews%2016.mov?dl=0
A great Day for Greece and Freedom
Lastly, Greece and Hellenism celebrates today its 201st Anniversary from the revolt, Revolution against the Ottoman Yoke!
Have a nice evening and weekend, Happy Mothers's Day  and continue to remain on guard from actions emanating from Pirates, Terrorists, Criminals and any Business Hooligans whatsoever wherever you are on Planet Ocean.  Once again a big THANK YOU to all who really care for all humans – Doctors, Nurses, Seafarers, Dockers, Port Authorities et al during this Coronavirus disaster!! We repeat: Do please invest in Hospitals including Equipment, Doctors, Nurses and any useful means to avoid further disasters! Become more disciplined and care for the Environment too. As for the mess in Ukraine, you have not seen anything yet as well as its spread… Lastly: Education and Training for all to be able to tackle these disasters. Let us work collectively together and NOT opt for a fistful of Dollars to restart the already collapsed global economy… which is in red over US$ 350 (three hundredandfifty) trillion…