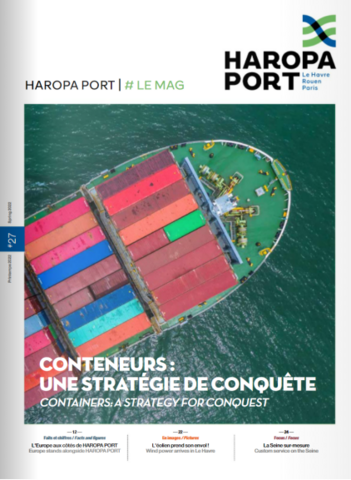 Every quarter, HAROPA PORT publishes its bilingual magazine (French/English) which covers the major news of the 3 ports, with an economic dossier, an opening on innovation, etc.
This issue could be of interest to you as it deals with the following topics in particular:
– The 2024 Olympics on the Seine: For the first time in the history of the Olympic and Paralympic Games, the opening ceremony will not be held in a stadium… but on the Seine: 10,500 sports men and women will travel on a 6km route on 160 boats. On the occasion, the Seine will be made suitable for bathing as a part of the Games' legacy. (impressive image).
– Containers, a strategy for conquest: 2021 was a record year for the container sector at HAROPA PORT which for the first time surpassed the symbolic figure of 3M TEU. Look at the reasons for such a success and how the Seine axis major river/seaport intends to remain on this trajectory.
– The wind power takes flight in Le Havre (image and video): The Siemens Gamesa Renewable Energy blades and nacelles production for offshore wind farms began at the end of March in Le Havre. The plant occupies 40 hectares in the port of Le Havre. It's the largest French industrial project in renewable energies.
– Custom innovation for river transport: HAROPA PORT is supportive of innovative river transport solutions for service to inner city districts. A close look at 3 custom innovations
–          Wind-powered decarbonisation: In the present of uncertainty regarding the future of international value chain management, quick look at a new paradigm for sustainable shipping. (FYI : HAROPA PORT is proposing preferential port dues and building a value offering that covers the entire port ecosystem to incentivising and rewarding the most virtuous shipping lines to reduce NOx and SOx emissions).