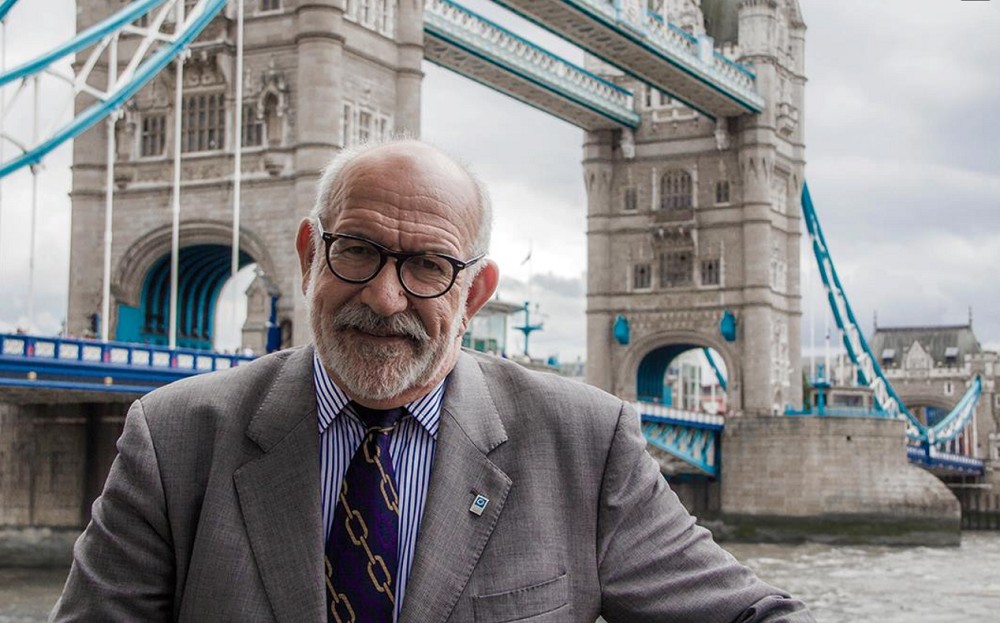 Capes' rise lifts the BDI – now standing at 2,718, whilst Wets remain with mixed feelings. The Third World War continues with the Russian aggression in Ukraine – and possibly beyond. Covid still remains a threat. John Faraclas' daily and weekly recap:
The BDI (Baltic Dry Index) was up 74 points since yesterday and now reads 2,718; on a weekly basis same was up 314 points – from 2,404 on 29/04, surpassing the 2,500 to 2,700 points thresholds, all thanks to the Capes.
The Capes' BCI was up 173 points standing at 2,894 and on a weekly basis same was up 758 points – from 2,136 surpassing the 2,200 to 2,800 points threshold spreading optimism to the Dry Markets!
The Panamaxes' BPI was up 65 points at 3,175 and on a weekly basis 237 (from 2,938) surpassing the 3,000 and 3,100 points threshold…
Minor hiccups for the Supras' BSI, which was down three points at 2,729 and on a weekly basis down five – from 2,734 on 29 of April…
The Handies' BHSI was up eight points at 1,640 and on a weekly basis a good 47 points plus – up from 1,593 surpassing the 1,600 points threshold.
So, all in all a good performance under warring circumstances and pressing recession with two indices, that of the BCI and BPI doing more than well.
The Wets still with mixed feelings; the last published BDTI (Dirties) and BCTI (Cleans) stood at 1,162 and 1,398, down 20 and up 41 points respectively. On a weekly basis the Dirties were down 91 points- from 1,253 and the Cleans were up 143 from 1,255… Strange Wets; watch this space!
The WTI stood at US$ 109.77 – up US$ 1.51 since yesterday, which is US$ 5.08 plus since last week's US$ 104.69; levels completely out of any logic, which at the end of the day will backfire. Expect even higher levels, above the US$ 150… Despicable.- We need to see the US$ 49.99 level thus avoiding catastrophe for the consumers/end users. CAUTION…
Containership rates remain in good levels despite a minor fall… Not to complain…
The Cruise Industry looks promising with 70 (seventy) percent of the international fleet operating and expectations are that CLIA members will be in almost full order by end of June / beginning of July… With over 100 nations' ports now opened for cruise vessels, looks a promising market and recovery but watch out the Ukrainian situation…
In the Geopolitical front Ukraine remains the main issue, but the focus is what Putin's Russia next step be…
We reiterate that the Third World War begun is Syria and phase two is Ukraine. This is a very crucial weekend and we all await president Putin's statements on Monday the 9th of May given the Anniversary of the Red Army's win over Nazi Germany and the parade in Moscow's Red Square … All in all a despicable situation will continue to enfold confirming our written views from the right beginning. Still: you have not seen anything yet on the Ukrainian front… as Putin has chosen this time in intensifying his hostility everywhere as you will soon verify, feeling strong enough after Russia, in particular, recovered from its post Soviet weak situation, but…
Elsewhere:
MIGRANTS continue to be the number one issue following the latest with Ukraine; CAUTION!!
North Korea will continue its ballistic missile tests and everything points to an even prompt one according to intelligence. Japan is strengthening its defences… A bit of a worrying situ in the Far East, given also the Chinese appetite for incorporating Taiwan… CAUTION as the "combination" of North Korean and Taiwan issue might spill beyond the proxy war between the USA and China… Intelligence matters most; watch this space!
The USA might enter a period of Recession at a very crucial and turning point for humanity and turbulent Geopolitics all over Planet Ocean.
Brazilian forthcoming presidential elections will be a very interesting trial; can Lula, ex president do the trick and unite Brazil? Can current president Bolsonaro stop him?
In the United Kingdom, difficult days ahead for the Tories following the results in the municipal elections, but Labour still not capable of running UK… what's next for PM Boris Johnson?
In France, re-elected President Macron, begins hard work!
Mind Turkey's provocative actions in southern-east Europe as well as its interference and use of president Erdogan's "good offices" in mediating in the Ukrainian – Russian conflict; a very dubious involvement…
What's next in Hong Kong as in reality there is one candidate for taking over as new governor; Beijing's faithful John Lee might be the "winner". Caution as Beijing's grip over Hong Kong tightens…
In Africa, the continent of too many ifs and buts, wonder if Godwin Emefiele, governor of Nigeria's Central Bank can do the trick and win the presidential elections!
On another tone and note, we had:
An interesting presentation which took place in London promoting alternative touristic activities during holidays in the Cyclades and in particular in Syros and Antiparos. The event was introduced by GNTO's Director for UK & Ireland Eleni Skarveli.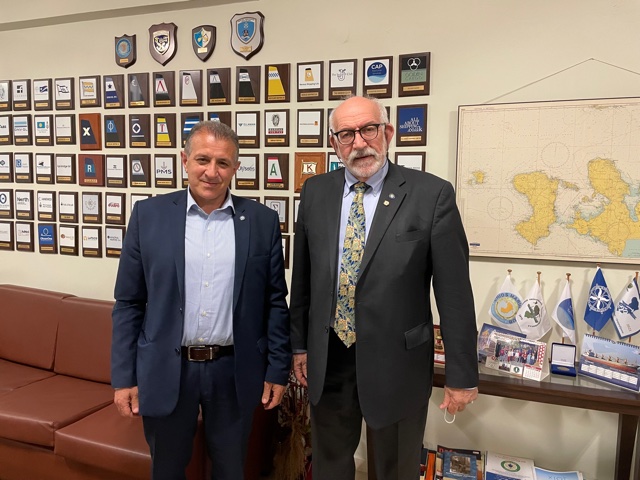 The weekly gathering of members at the Chios Marine Club's offices down town Piraeus; every Wednesday members meet up for drinks and dips as well as to catch-up on business and social events.
Capital Link's 12th Annual event, The Greek Shipping Forum on "New Opportunities & Challenges" with Simon P. Palios receiving the leadership award by fellow Chian compatriot Capt. Panagiotis Tsakos, was more than a success. A great event on all counts at the Grand Hyatt Athens Hotel yesterday being also Saint Irene's Day!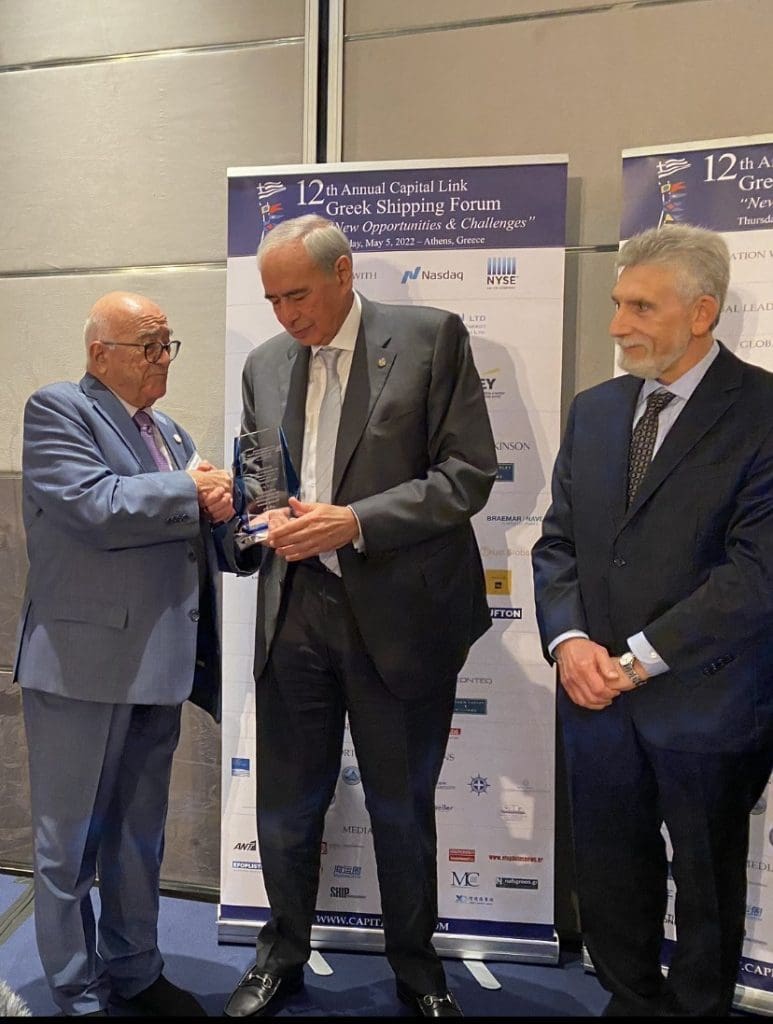 With seven panels, six keynote speeches / presentations / positions and statements the forum become the talk of Planet Ocean – news travel fast… Nicolas Bornozis and his team meticulously selected themes, speakers and contributors in a very crucial momentum for shipping coupled with geopolitics, energy and the environmental concerns, investment and finance, and regulation. Well done.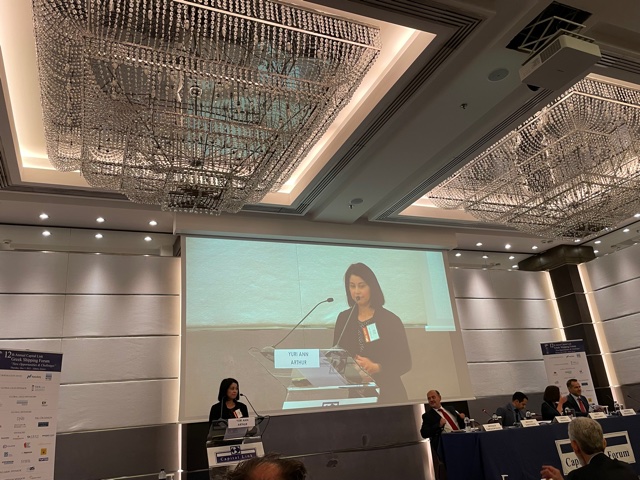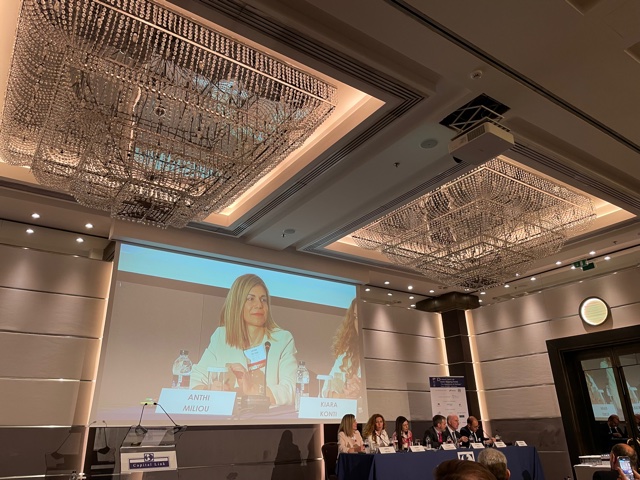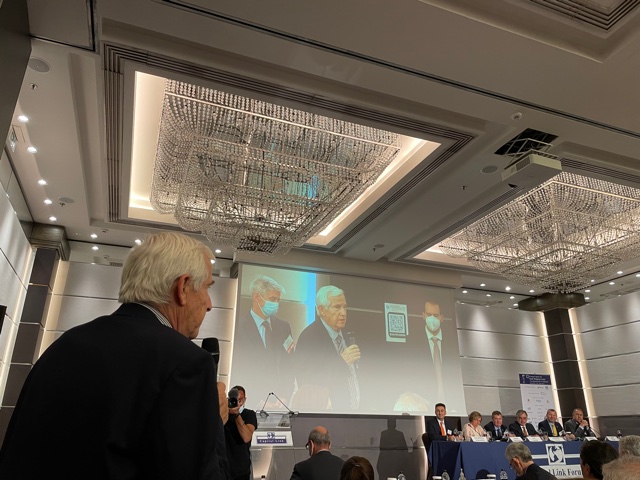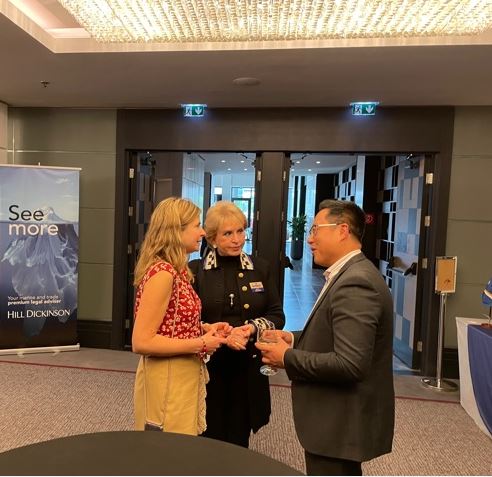 In cooperation with NASDAQ and NYSE and with the top of Shipping's Business entities echelon he produced and delivered a great event.
Good to see politicians as well as Greek, European, and International associations well represented.
A very touching awards ceremony honouring one of Planet Ocean's Shipping leaders, the towering Simon P. Palios* for a successful presence in the Shipping adventure for six decades. Soon we shall bring you the full report.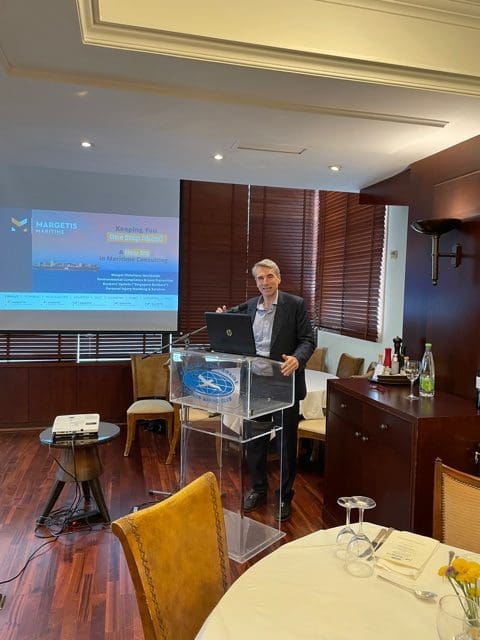 George Margetis presented earlier on today at the Piraeus Marine Club over an excellent luncheon and discussion event on P&I issues from a surveyor's perspective by a unique team of speakers from his consultancy which included Marpol Violations, Environmental Compliance & Loss Prevention, Bunkers' Update ("Singapore Bunkers"), and Personal Injury Handling & Services.
The three deliveries were on:
Environmental Compliance by George Margelis
Personal injury Claims by Jason Dariotis,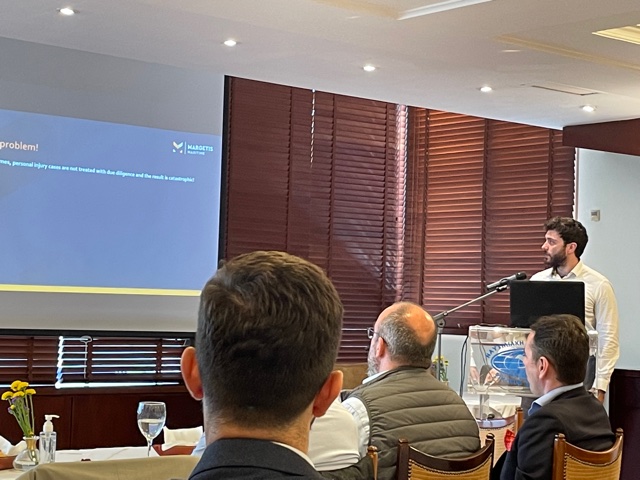 and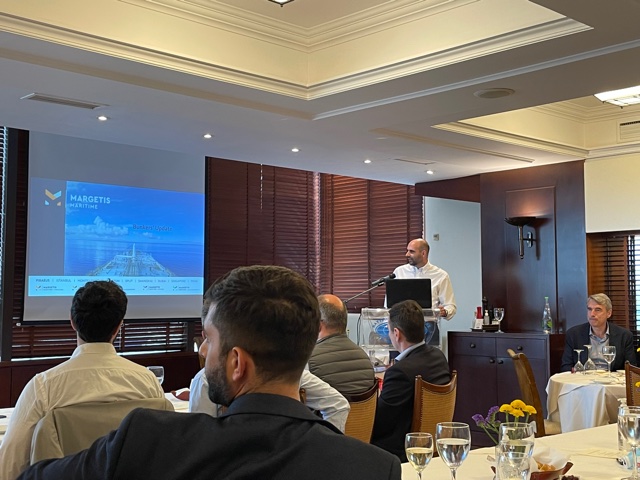 on Bunkers by Panos Koroulakis
Moreover George Margetis presented six new members of his international team; George Margelis, Evi Anastasiou, Panos Koroulakis, Jason Dariotis, Nikos Kassimatis and George J. Margaronis.
A very well attended event and excellent networking; good to see friends and colleagues with a past career in London!
Coming up next Wednesday the 11th of May at the amphitheatre of Paleon Faliron Municipality, an event on "Athens Riviera – a centre for Shipping Development and Maritime Education – two panels covering "Educating the new generation for the Shipping economic model of Greece jobwise and Sea Culture in business development of Greece". An awards ceremony will take place honouring Captain Panagiotis Tsakos for his contribution in elevating Paleon Faliron as an International Shipping Centre.
Lastly we were once again honoured to participate a few hours ago in the main weekly news at Vergina TV Channel in Greece in two of its three parts on Commenting the News – Ukraine, Energy, Geopolitics, Shipping & Transport, Commodities and Greek Politics with the Nea Democratia – ruling party's Conference / Congress.
Herebelow are the respective links:
Part B https://youtu.be/xmlUYeGjXQE
and
Part C https://youtu.be/LRPyRM9rXyA
Dominance of Maritime Power will win the Geopolitical Game, and Greece with AUKUS will certainly win; watch this space!
Covid remains as strong as ever and we recommend CAUTION. Despite lifting the protocols we insist in discipline and responsibility as things might turn sour in Autumn…
Have a nice evening and weekend, all the very best for Mother's Day this coming Sunday, but continue to remain on guard from actions emanating from Pirates, Terrorists, Criminals and any Business Hooligans whatsoever wherever you are on Planet Ocean. Once again a big THANK YOU to all who really care for all humans – Doctors, Nurses, Seafarers, Dockers, Port Authorities et al during this Coronavirus disaster!! We repeat: Do please invest in Hospitals including Equipment, Doctors, Nurses and any useful means to avoid further disasters! Become more disciplined and care for the Environment too. As for the mess in Ukraine, you have not seen anything yet as well as its spread… Lastly: Education and Training for all to be able to tackle these disasters. Let us work collectively together and NOT opt for a fistful of Dollars to restart the already collapsed global economy… which is now approaching the US$ 400 (four hundred) trillion…
___
*https://allaboutshipping.co.uk/2019/02/17/allaboutshippings-top-100-individuals-for-2018/