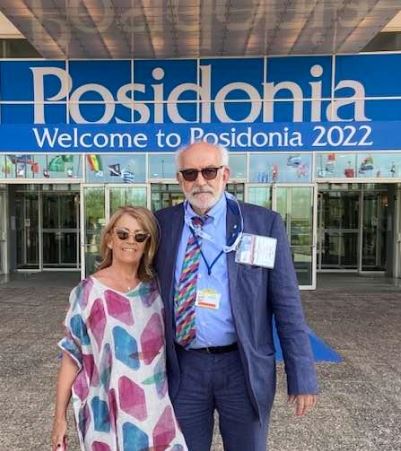 The BDI (Baltic Dry Index) fall continued both on a daily as well as on a weekly basis. Geopolitics given the Ukrainian mess will bother us for the foreseeable future… Covid looms in the background. Posidonia 2022 ends on a happy note. John Faraclas' brief daily and weekly recaps:
The BDI was down 22 points since yesterday and now reads 2,320; on a weekly basis same was though down 313 points – from 2,633 last week… losing the 2,400 to 2,600 points threshold…
Capes' BCI was up two points since yesterday – an …"exception" and now stands at 2,371; same was down 556 since last week's 2,927… 2,400 – 2,900 points threshold were lost. CAUTION…
Panamaxes' BPI down 45 at 2,629 and on a weekly basis down 222 points… The 2,700- 2,800 points threshold were lost…
Supras lost 32 points with the BSI standing at 2,495; the weekly loss was 308 points – down from 2,703… 2,500 to 2,700 points threshold lost…
Handies were down too with the BHSI losing 52 points and now reading 1,417. On a weekly basis, the Handies lost 178 points – down from 1,595 last week. The 1,500 points threshold was lost.
All in all a falling Dry Market, but as long as the BDI remains above the 2,000 points all is "fine"…
The Wets on a rising mode; the last published BDTI (Dirties) and BCTI (Cleans) stood at 1,126 and 1,513 points – up 33 and 40 respectively. The weekly gains were 22 and 106 points respectively with the Cleans surpassing the 1,500 points threshold.
The WTI stood at US$121.51 – up US$ 2,46 since yesterday and US$ 3.51 since last week's closing at US$118. C A U T I O N!!
The Geopolitics remain chaotic and there is more mess to witness in Ukraine and beyond; we maintain that the Third World War is on and coupled with the worse ever recession and Covid's mess will turn Planet Ocean upside down… Watch out Turkiye's (Turkey's) provocing behaviour which might rock Peace…
Posidonia 2022 after four years of absence were more than a success with 2,000  exhibitors from over 80 nations, 20 National Pavilions, 1009 new exhibitors and hopefully about 25,000 visitors. Add over 150 Receptions and Parties – not to mention over 100 private ones, over 150 conference and debates, Sports, Arts events and get the message of Greece's Shipping Success!
Covid remains a liability…
Watch the live video from our TV appearance a couple of hours ago were all issues more or less were covered especially on Posidonia 2022:
Have a nice evening and long weekend – particularly for the Greeks given the Holy Spirit Holiday on Monday, but continue to remain on guard from actions emanating from Pirates, Terrorists, Criminals and any Business Hooligans whatsoever wherever you are on Planet Ocean. Once again a big THANK YOU to all who really care for all humans – Doctors, Nurses, Seafarers, Dockers, Port Authorities et al during this Coronavirus disaster!! We repeat: Do please invest in Hospitals including Equipment, Doctors, Nurses and any useful means to avoid further disasters! Become more disciplined and care for the Environment too. As for the mess in Ukraine, you have not seen anything yet as well as its spread… Lastly: Education and Training for all to be able to tackle these disasters. Let us work collectively together and NOT opt for a fistful of Dollars to restart the already collapsed global economy… which is now approaching the US$ 400 (four hundred) trillion…