by John Faraclas and Anny Zade
It has just been over 50 years since I have last sailed from top to bottom of the Adriatic Sea – and vice versa, during my sea-training with my late father, a ship's master at the time, on board the cargo ship m/v "Santa Constance", a 12,600 dwt tweendecker. #
This post-New Year Festive time sea-passage from Patras (Peloponnese, south west Greece) via Igoumenitsa (Epirus, north-western Greece) to Venice was an unforgettable one in comparison, given our eight years' experience travelling from London to Athens and vice versa by car and using passenger ferries for the sea-passage, either to Bari or Ancona and with a call at Igoumenitsa. Moreover, in the past I was working on board and now these last journeys and the latest ones are leisure trips; many memories though come to mind!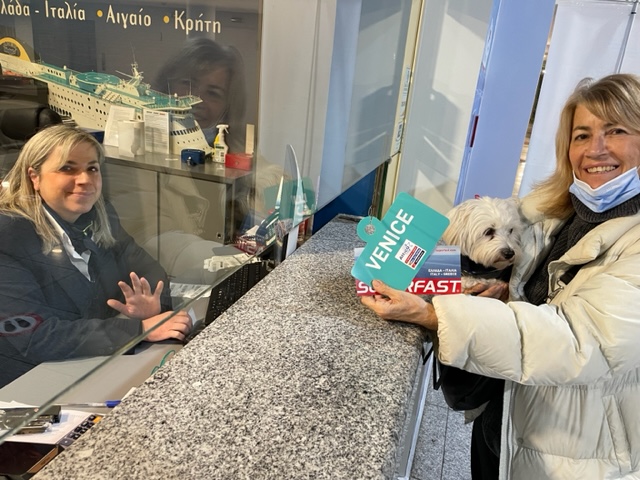 Arriving three hours before sailing was a good thing as check-in was easy now, following the fact that many companies doing the Adriatic crossing and elsewhere in Greece are under the Attica group, no queues… Worth mentioning the warm welcome at Superfast /Attica Group's* check-in desk and the ultra-clean environment at Patras's Port South Terminal. Add the booking process and collection at Attica's Kallithea, Athens premises where all Covid precautions were in force!
Sailing at midnight with a minor delay, given that there were too many vehicles of every type one can imagine and a minor delay of the Asterion II's** arrival at the Port of Patras – which made it though on time to Venice, was another experience and as the title clarifies: an unforgettable one. A very advanced passenger/roro-ferry for her time – even advanced for today as you read these lines!
All cars and tracks were in pre-arranged lanes organised and programmed both by the local port authorities as well as from Attica's shore personnel to facilitate travelers of all kinds as well as logistics companies' trucks. Given the good weather prevailing over the last year, many tourists from mainly Central – North Europe – a quick counting produced something like 15 centum, proving Greece is an all-year tourist destination, were on the go returning to their countries; in mid-January eh! These tourists are enjoying the Greek weather and climate even at that time of the year and prefer a sea-trip rather than a flight. This phenomenon was also discussed during the World Travel Market at London's ExCel last November!
We were directed to the bottom garage of the ship – going down two levels with state-of the art hoistable rumps in a well-protected parking area; there were at all material times and places, designated ship's crew assisting all drivers.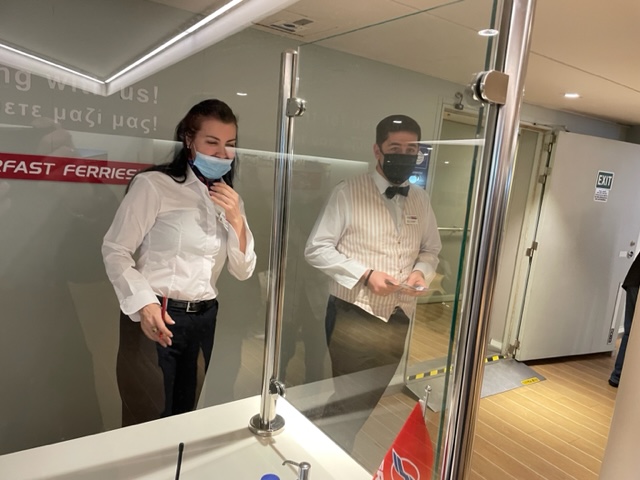 Up with the lift to the seventh deck reception to receive our pet external cabin. Ms Georgia was supervising the reception desk assisted by Makis, both from Peloponnese!
The first night
Plain sailing given also the advanced stabilisers of the ship. We walked around to get familiarised taking also our sweetheart Lord Casper, our Maltese doggy for his usual pre-sleep …tour in the designated ship's pet area. A pet-friendly passenger-ferry with all facilities for animals, dogs in particular.
After a good night's sleep – excellent mattress and cabin temperature, five star hotel shower room for a rejuvenating shower following our drive from Athens and the three hours waiting time before sailing. We woke on time for the sunrise at the Port of Igoumenitsa in its secluded gulf…
The call at Igoumenitsa.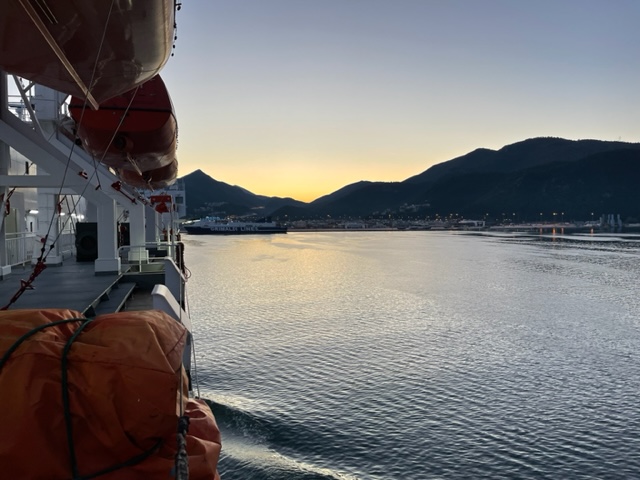 The ship reduced her speed as we enter the Igoumenitsa gulf, which has also fish-farms, small boats, seaside houses and crystal waters, and given the clear skies and good weather we had an interesting sight-seeing so to speak. Entrance at this small ..fjord/ gulf was yet another experience, particularly at daybreak…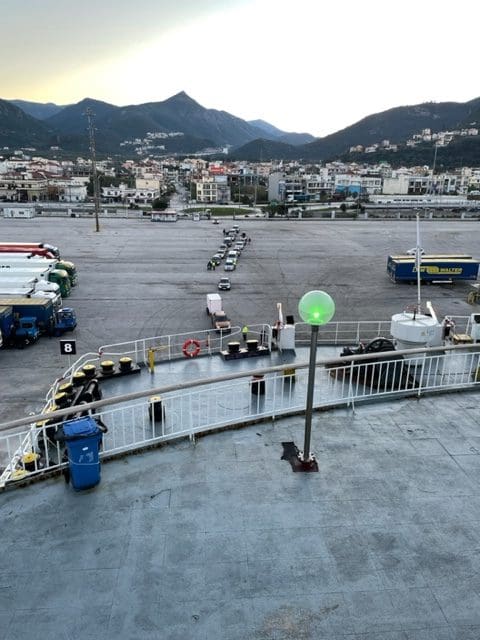 We witnessed the turnaround which was performed in …no time given the great number of container trucks, a sign of the export capabilities of Greece's traders; excellent! (see picture above). Specialised drivers using the port's tractors to bring in the container trucks….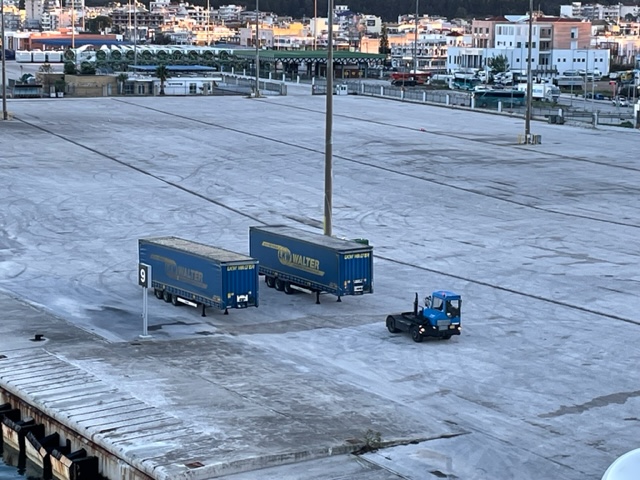 The sea passage to Venice passing the straits of Corfu (Greece) and Albania (Butrint) begins with good omens, given the fantastic weather… that climate crisis can "produce"… Spending some time on the deck enjoying January sun was more than sheer luck… But time now…
…for our continental ..err a Greek breakfast… at the economy class restaurant which was a real booster for the day…
Walking around the ship's decks, meeting crew members and fellow passengers from all over Europe and some from the other side of the Atlantic… taking in the views on their stay in Greece, the situation in their native countries and Planet Ocean's mess, particularly …"post" Covid, the ongoing war in Ukraine which in 40 days would be one year old, inflation et al… With some of them met at Calais coming over to the UK; small world. All had to appreciate the smooth sailing of the ASTERION II overnight…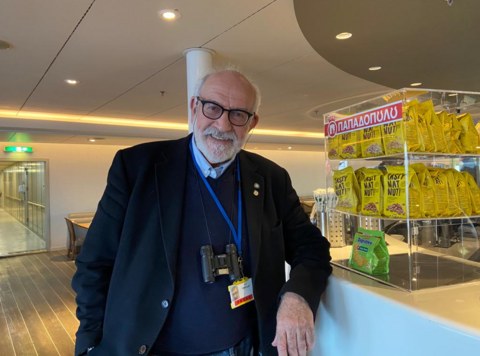 A light lunch at the bar; drinks and dips were excellent and nicely prepared. Excellent service from Konstantinos… (see picture above)
In the afternoon a bit of work… catching up with world news… and composing stories.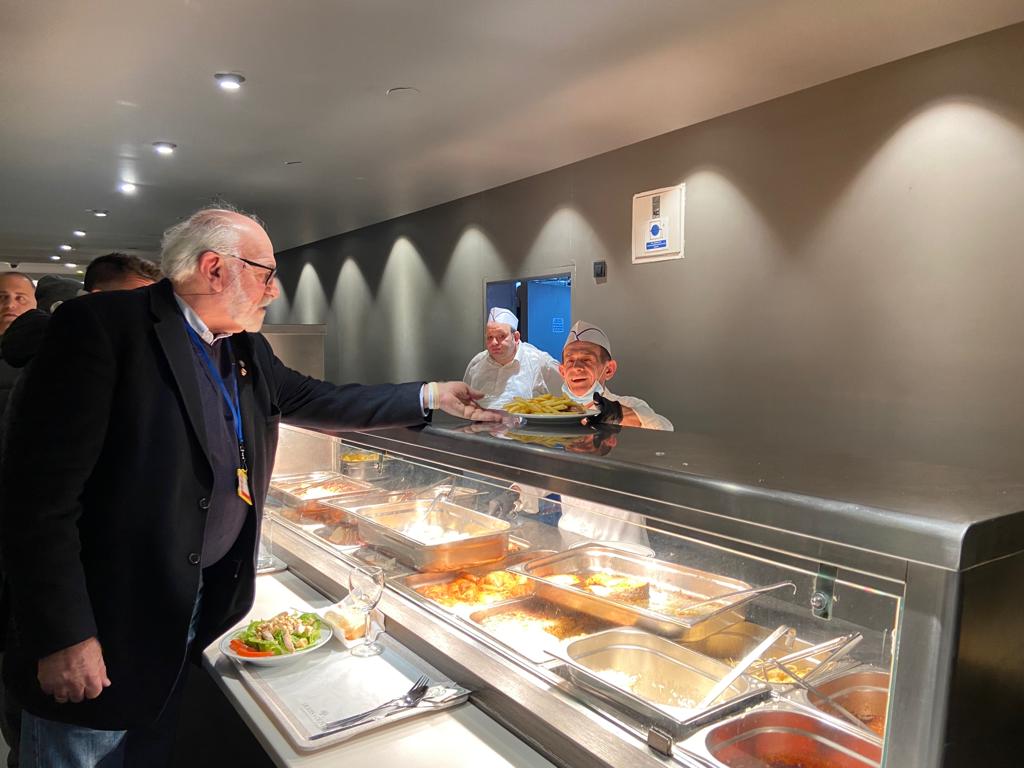 Early evening dinner at the ship's self-service, but well manned ..err attended restaurant…
Menu… Pork-chops with rice and tomato-lettuce salad for Anny Zade and super pork-chop with traditional ship's Greek fried potatoes for me, home-made bread and Semeli's Oreinos Helios red wine bringing some kind of tranquillity in our minds! Galaktobourecko – custard- pie in English, offered by the maitre-chef… was more than superb. This traditional Greek dessert is made with layers of golden brown crispy filo, sprinkled with melted butter, filled with the most creamy custard… As you all know, and we continually repeat, food AND sweets/desserts on board ships, any kind of ships, is far better than those ashore. The reasons, more than obvious. Add the service and you will never wish to leave the ship. With today's minimalist or zero food on board airplanes – shameful, given the three-fold increase in the price of air-tickets, save some transatlantic and transpacific as well as South Africa destinations on long-haul flights, and you will understand why ship's food continues to be great and why travellers opt for passenger / ferry boats. There is some kind of pathos in this seaborne gastronomy… going back two centuries – from the old liners to today's cruise-ships, ferries and cargo-ships…
Early to bed as we had ahead of us a very busy day scheduled in Venice… The ship seemed idle; excellent weather but also technology at its best given the ship's structural characteristics… Her stabilisers did the trick!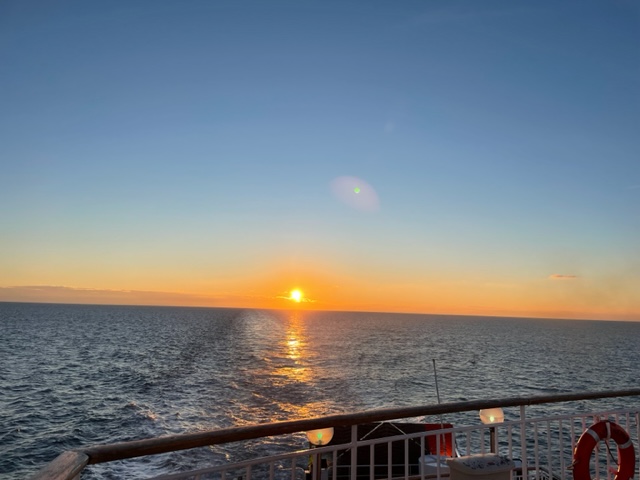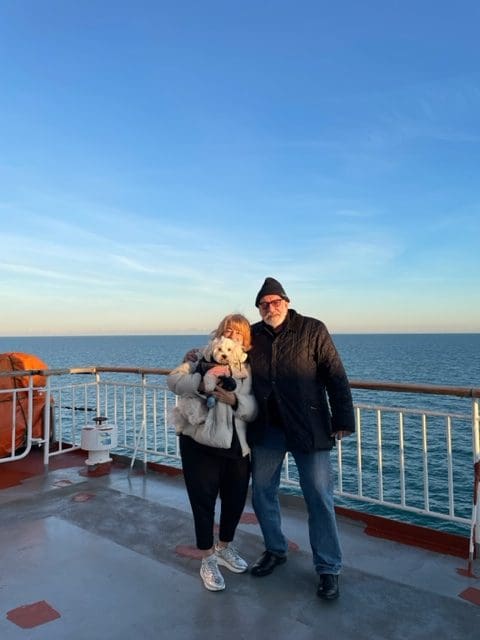 Up early and on deck with Anny Zade and Lord Casper… (see picture above). Amazing weather in mid-January – a unique cruise that was, not just a simple passage to the most Serene Republic, as Venice is known through the ages!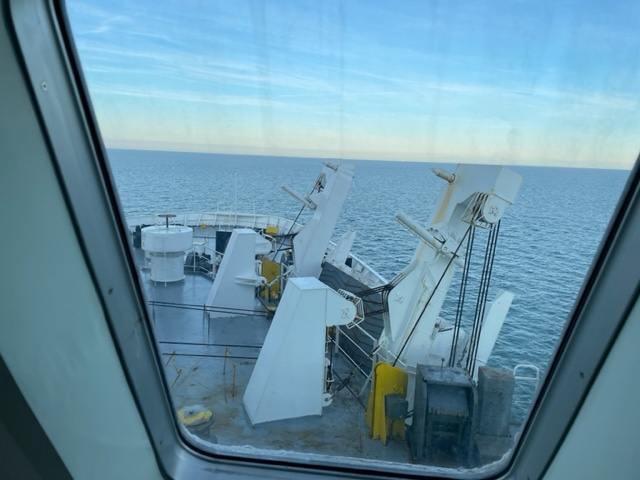 Approaching north and due to the nice weather and clear horizon we could see the Istrian coast and at the far end the city Trieste and its famous port! (see picture above)
Lucky to have Nikos, one of the oldest stewards in the company to show me around the vessel's accommodation and in particular cabins, luxury ones too – five star plus so-to-say suites, flats meticulously decorated for all tastes and budgets; the Antarctica being one of them!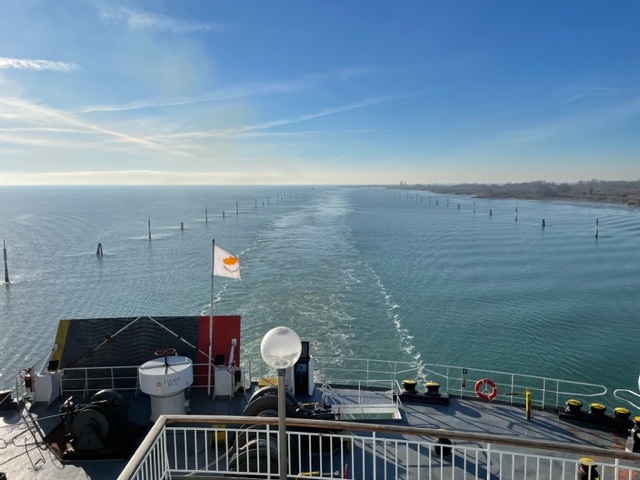 Entered the lagoon for the first time in my life for the new – for me – multi-cargo and passenger/ferry terminal… what a passage that was under a full sun… and most of the passengers spread on the ship decks sunbathing; amazing!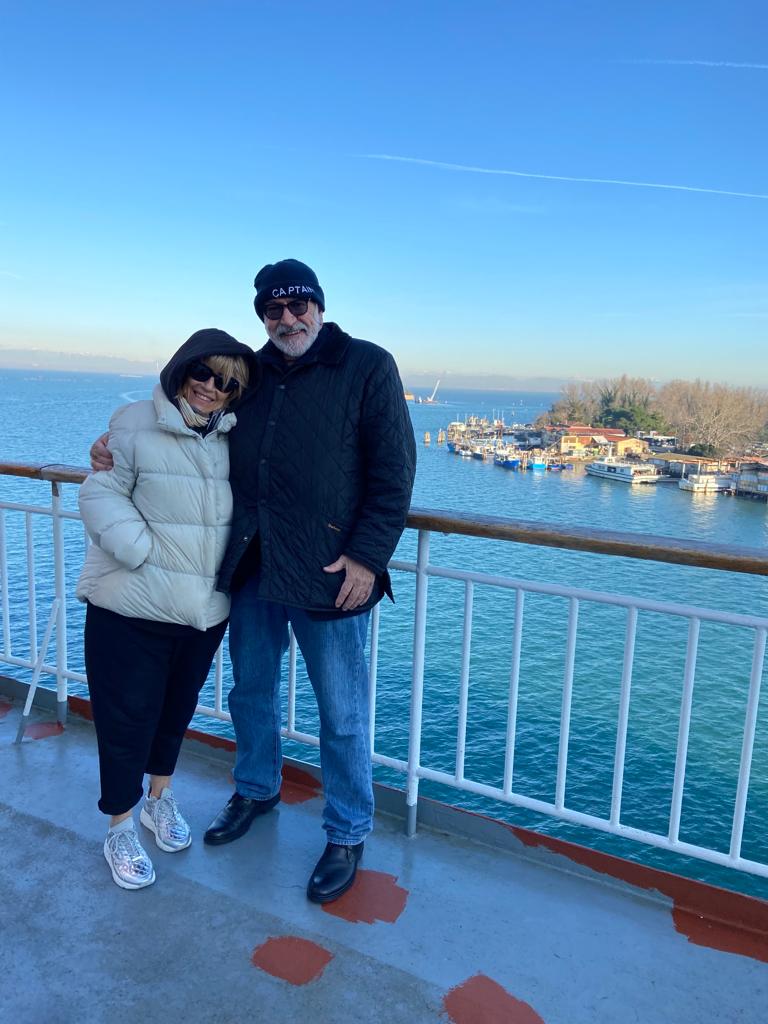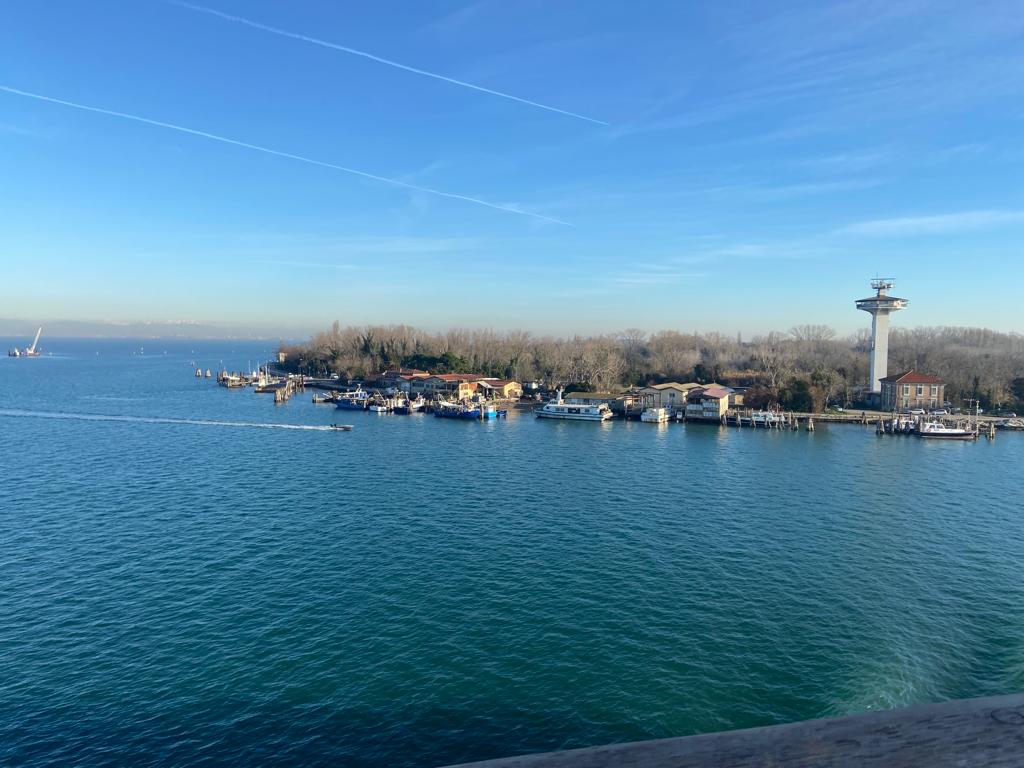 Venice for the Greeks and Planet Ocean's geopolitical history now awaits us.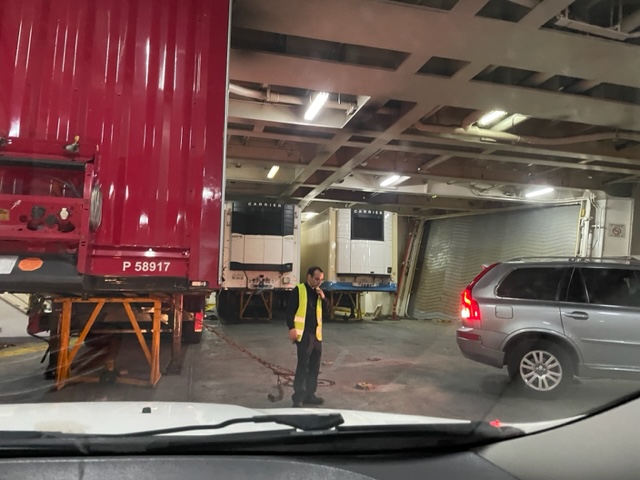 We disembarked following the ramps upward in a very disciplined way directed by the ship's designated officers and crew observing safety and security for all!
Many congratulations and thanks to Captain Konstantinos Taoulas, ASTERION II's master and his crew for excellent sailing and service. A must to tell you that this ship's crew were serving many years on board this particular ship and for the company; a sign of good ownership, management and seamanship. Safety above all was the prime issue onboard and same was performed at all levels and times increasing the KPI's of both the ship and company! Many thanks also to the management and personnel of Attica Group / Superfast Ferries!

Our return passage back to Patras from Venice begins on the 29th of March; next week and we eagerly await same to be back among Greece's seafaring community and one of the best** shipping companies throughout Planet Ocean…
*Attica Group: Superfast Ferries, Blue Star Ferries, Hellenic Seaways and Africa Morocco Link; also note the joint operations with ANEK.
**Attica Group's latest accolades include a triple distinction award for CSR, a best ESG Reporting- 4th worldwide and 1st in Europe, Openness & Honesty – 7th worldwide and 2nd in Europe, and Credibility Through Assurance – 6th worldwide and 4th in Europe
ASTERION II main details: built in Japan's famous MHI (Mitsubishi Heavy Industries) Kobe yard in 1991; loa 192.5m; beam 27m; 135 cabins, 720 passengers; about 840 cars and 117 trucks and service speed of about 21knots. She flies Cyprus' flag. She's fitted with three ramps – one stern and two on her starboard making her a very versatile passenger ferry. All amenities on board are excellent from entertainment / leisure to a tax free shops, electronic games, you name it.