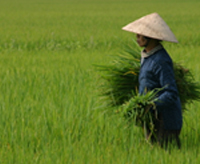 Extreme variability in rainfall is making life harder for some of the world's poorest people, but microinsurance products are supporting farmers' own efforts to cope with the worst effects of drought and flooding.       
Water resource risks are of increasing concern to decision makers and feature regularly in the rankings of major risk concerns, including Lloyd's Risk Index and the World Economic Forum Global Risks 2012 Report.
Lloyd's also published a report with the WWF in 2010 which explores the increasing threat to business from water scarcity and highlights ways in which companies can better manage this growing risk.
The WEF report ranked the impact of a water supply crisis as second only to another financial crisis in its survey of 50 global risks. Of all societal risks, a water supply crisis had the highest impact and the highest likelihood, says the WEF report.
Climate variability
The development challenges related to access to safe water are substantial – around 900 million people still lack access, says Leslie Morris Iverson of Oxfam. It remains a major underlying debilitating factor in social and economic under-development with grave effects on food production, livelihoods and environmental wellbeing, she says.
In the future, the challenges in gaining adequate access will be even more severe given emerging trends of population growth and urbanisation, which will lead to increased demands for water in domestic, industrial and agricultural uses, says Morris Iverson.
"The effects of climate change are leading to an intensification of the hydrological cycle, with more frequent extreme weather events such as droughts, heat waves and intense rainfall with associated flooding risks, " she says.
"Access to water will be hindered by these trends, and social and economic development will be affected as water plays a key role in advancement of all development, including health, education, and livelihoods, " says Morris Iverson.
Increased variability
With climate change comes a greater variability in rainfall, says Richard Leftley President and Chief Executive of MicroEnsure, which sells a range of low-cost insurance products to people in Africa and Asia.
Unreliable rains and growing seasons are a particular problem for small farmers that do not typically have access to irrigation. Many of these farmers live from harvest to harvest, and a failed or poor harvest can mean the death of a family member, he says.
"The world's climate is becoming more variable and this affects the poorest most, " says Leftley. While not advocating subsidising farming in the poorest countries, Leftley says that the rich world can help by funding the mitigation of climate variability.
A role for insurance
Insurance has a role to play in mitigating the effects of weather variability, says Leftley.
"The problem is a lack of funding, not a lack of imagination. Insurance can unlock credit and make them more resilient and better able to cope with climate variability, " he says. "The irony is that many farms are unproductive, only planting one in three acres, using seed from the previous year's crop and animal manure as fertiliser, " says Leftley. "Insurance can give access to credit that would enable them to increase yields by purchasing drought resistant seed and better quality fertiliser."
Farmers buying microinsurance have been able to increase yields by as much as 300%, says Leftley. "They have experienced a profound turnaround in their lives in a relatively short period of time by being more resilient, " he says.
Insured farmers also tend to plant more cash crops because they feel more secure in case of weather failures, so they do not need to self-insure with too much food crops and livestock holdings.
Microinsurance can be purchased to protect against a shortage or an excess of rain. The insurance works like a hedge, and is simpler to understand and settle rather than the more traditional crop insurance. Claims are paid depending on the variability of rainfall over a certain period, rather than actual damage to crops.
Weather index insurance can also be used to cover more than one crop variety – multi-cropping is one of the ways small farms mitigate climate variability, says Leftley.