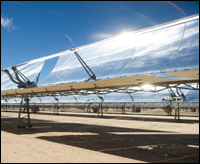 Oct 2012 – Lloyd's is providing specialist cover to an increasing number of solar energy parks, the fastest growing form of alternative energy globally.
Enough sunlight strikes the earth in just 90 minutes to provide the entire planet's energy needs for one year, but, despite its abundance, solar energy meets just a tiny fraction of the world's growing energy needs.   However, fears for energy security and climate change means that this is changing. Solar photovoltaic technology, which converts solar energy into electricity, is the fastest growing renewable power technology could potentially provide up to one-third of the world's energy demand from 2060, according to the International Energy Association.
Global demand  Growth in solar energy reflects generous government incentives and the falling cost of solar technology, says Jamie Fleming, an underwriter at specialist Lloyd's renewable insurer GCube. Solar parks are also much faster to construct and far simpler to operate than technically demanding wind and wave power, he says.   The largest market for solar energy is China, followed by the US. However the fastest growing markets in terms of new projects are in Europe where countries are committed to producing 20% of energy from renewable sources by 2020. Emerging markets in Asia, Latin America, Africa and Eastern Europe are also seeing significant investments.
Big wins  Lloyd's broker UIB and GCube recently won the contract to provide reinsurance for the Perovo Solar Park in Ukraine. Built by Activ Solar, the park is equivalent to 259 football pitches, making it the largest photovoltaic plant in Europe and among the biggest in the world.
Once completed, it is expected to produce enough electricity to meet the needs of 22, 000 households and save 105, 000 tons of carbon emissions.   The project highlights the opportunities for Lloyd's in solar energy, said Mark Ritson, a renewable energy specialist at Lloyd's broker UIB. His firm is bringing an increasing number of solar risks to Lloyd's, in particular from North Africa and Eastern Europe.   Theft risk  The biggest risk for solar parks is theft of copper cables, which have seen their values rocket in recent years.
"Unlike wind power, solar PV parks do not suffer greatly from mechanical and electrical breakdown. But the doubling of copper prices since 2009 has led to increased` incidents of theft, which can create significant downtime and leave a solar park inoperable, " says Fleming.   For investors and developers, political risk is also big risk, says Fleming. Subsidies and tariffs can be reduced retrospectively, as recently happened in the United Kingdom and Spain. GCube has provided loss of revenue cover should an insured event lead to a delay in construction and the failure to qualify for government incentives.   Solar parks are also exposed to natural catastrophe risks like earthquakes, lightning, floods, wind storm and even hail.   Growth sector  The alternative energy insurance market is growing at an enormous rate, according to Ritson. UIB has seen its renewable insurance book double year-on-year and is receiving an increasing number of inquiries to place business at Lloyds for wind farms, solar parks, bio fuels and geothermal energy, he says.   "The renewable sector is a growing opportunity for us as brokers and for insurers. Population growth and increasing urbanisation mean that there is huge worldwide demand for power from both traditional and alternative sources, " he says