The International Marine Contractors Association (IMCA) has published Guidance on Operational Activity Planning (IMCA M 220) to provide a brief overview of tabulated methods that are increasingly being used in the planning and execution of offshore marine vessel projects and routine offshore support activities.  
"Operational activity planning applies to all sectors of offshore marine operations, including offshore drilling, project and construction vessels and offshore supply vessels, " explains IMCA's Technical Director, Jane Bugler. "Although usually applied to dynamically positioned (DP) vessels, the processes described in our new guidance can be used for non-DP vessels."
She adds that "operational activity planning comprises three processes: critical activity mode (CAMO), task appropriate mode (TAM) and activity specific operating guidelines (ASOG)."
The new guidance on operational planning defines:
• The vessel's systems/equipment configuration appropriate to the location and the activity the vessel is undertaking (CAMO or TAM)
• The variable limits in equipment and operational parameters for the location and specific activity (ASOG)
• The actions to be taken by the DP operator (DPO) in response to faults and deteriorating conditions and performance identified in the CAMO, TAM and ASOG   It presents the guidance to the DPO in a user-friendly tabular format, and the approach produces a brief document which provides a cross reference for relevant vessel personnel such as the DPO, driller, diving superintendent, bridge, etc.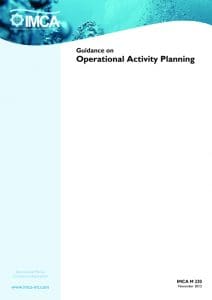 The document can be downloaded free of charge by members and non-members alike from the IMCA website at www.imca-int.com. Printed copies can be purchased from the association at £5.00 for members and £10.00 for non-members via the website, or from publications@imca-int.com, or from IMCA at 52 Grosvenor Gardens, London SW1W 0AU, UK. Tel; +44 (0)20 7824 5520; Fax: +44 (0)20 7824 5521.
About IMCA  
• IMCA is an international association with over 850 members in more than 60 countries representing offshore, marine and underwater engineering companies. IMCA has four technical divisions, covering marine/specialist vessel operations, offshore diving, hydrographic survey and remote systems and ROVs, plus geographic sections for the Asia-Pacific, Central & North America, Europe & Africa, Middle East & India and South America regions. As well as a core focus on safety, the environment, competence and training. IMCA seeks to promote its members' common interests, to resolve industry-wide issues and to provide an authoritative voice for its members.
• IMCA publishes some 200 guidance notes and technical reports – many are available for free downloading by members and non-members alike. These have been developed over the years and are extensively distributed. They are a definition of what IMCA stands for, including widely recognised diving and ROV codes of practice, DP documentation, marine good practice guidance, the Common Marine Inspection Document (CMID) – now available electronically as e-CMID, safety recommendation, outline training syllabi and the IMCA competence scheme guidance. In addition to the range of printed guidance documents, IMCA also produces safety promotional materials, circulates information notes and distributes safety flashes.