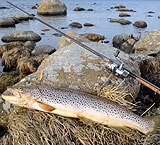 Fri 25 Jan 2013 –  British anglers can now get specialist fishing insurance thanks to a new product fully underwritten at Lloyd's.
Sportscover have worked with the JRW Group to develop a bespoke insurance cover for individual anglers.   In the UK, around 130, 000 people currently take part in angling once a week but close to a million people fish once a month. The popularity of the sport in Britain has grown in recent years, helped by the presence of "extreme fishing" TV shows and celebrity fans such as The X Factor's Tulisa.   Sales of the Environment Agency Rod Licence have increased by 35% in the last 10 years, with an estimated 6.1 million Brits going either freshwater or sea fishing in the last two years.    
Funding body Sport England recently announced a £1.8 million investment to help the Angling Trust continue developing the sport over the next four years.
Insurance – the fisherman's friend  
The insurance cover needs of amateur anglers include slipping down a muddy riverbank, having equipment stolen, damage to property and personal injury. Until now anglers seeking bespoke cover have had to use brokers to package up policies such as Accident and Loss, Public Liability and Professional Liability.
"The fact is angling can be a very expensive sport if it goes wrong and you don't have the correct insurance, " said John Woosey, Managing Director, The JRW Group. "Many anglers wrongly believe they are covered under their household insurance. For us, it's a simple question of 'Why take the risk?'"
The Fishing Care product's policies include 'New for Old' cover against theft, loss or damage to angling equipment, damage to property, personal injury and personal liability. There are five levels of cover to suit individual anglers' budget and requirements.   Paul Thomas, Underwriting Manager at Sportscover Europe said: "Sportscover is delighted to be appointed the insurer for the launch of Fishing Care. During many months of research in consultation with leading individuals from the sport of angling, we feel that the product will prove to be an attractive proposition. Our long term partnership with The JRW Group coupled with our specialism in sport insurance, underwritten by Sportscover syndicate 3334 at Lloyd's, provides a unique opportunity to make a significant impact in this fast developing sport".
The perennial popularity of fishing can be measured in the number of fishing competitions taking place around the UK and across the world. The UK Angling Championship, the annual Phuket International Sportfishing Tournament in Thailand, the World Carp Angling Championships, last held in Romania, all provide evidence that fishing is a sport that will keep reeling in insurers for years to come.