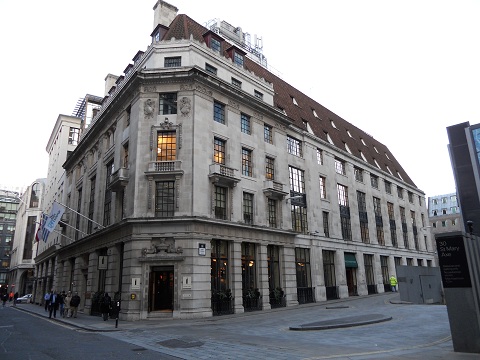 Last night in the presence of nearly 150 members and their guests the Greek Shipping co-operation Committee's traditional Vassilopita event took place at the Baltic's first floor. His Eminence Archbishop Gregorious of Thyateira and Great Britain blessed the three Vassilopitas, whilst present honouring the event where the Greek Ambassador Constantine Bikas, the centennial Tryfon Kedros, the Greek Maritime Attaché Captain (HCG) Michalis Manoledakis, Captain (HGC) Eftymios Kalyvas, and the honorary Secretary-General of the IMO Adm. (Rt HGC) Efthimios Mitropoulos.  
Chairman Harry J. Fafalios' simple speech focused on: the horrendous overcapacity, the air  emissions, the Green House Gas Legislation, the EEDI's, the MARPOL Annex V, Cargo Liquefaction and Piracy.
He payed tribute to the seafarers who not only have to fight the elements on a daily basis, but also watch out for piracy,  adding also how careful they are with the demanding loadng and discharging operations and the ever increasing bureaucratic workload particularly when the ships enter ports! He also mentioned that one can hope that the Greek Administrtion realizes the importance of Shipping and support same on the natioal and international levels.
Three lucky punters, the official photographer Katerina Kalogeraki – what a shot…, Andreas Bisbas from Tsakos' London office and Peter Spendlove from the West of England P and I Club, won the three sovereigns…
Present were the members Baltic Exchange's staff, Dr. Abdul Rahim from NKK; also from the Class Societies Costas Papadakis – Lloyd's Register, and Kirsi Tikka head of Europe from ABS. Alexander Kedros and Captain Petros Korkodilos from Southern Shipping and Finance, Pandi Empirikos, John M. Lyras, Spyros Polemis, George Mouskas, Markos and John M. Hadjipateras, Stathes Kulukundis and Dimitris Monioudis from R&K, Mathew T. Los, Nicholas Skinitis from Hermes Shipbrokers, Dr. Aleka Mandaraka Sheppard  from the LSLC and her husband Colin Sheppard from the LMAA, Sotiris Millissis from ELKA Shipping, and many others, including the Committee's Director Commodore (Rt HCG) Costas Amarantidis and Sylvana James head of the GSCC Secretariat.
As the next day was the Archbishop's Nameday, all members and guests wished him many happy returns, with good health and always to officiate this and other events.
Photos by Katerina Kalogeraki