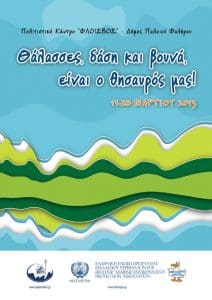 An Exhibition of artworks created by children-members of the "HELMEPA Junior" program will be hosted by the Municipality of Paleo Faliro (Athens) between 11 and 28 March 2013, at the "FLISVOS" Cultural Center.
The 54 group drawings that will be on display belong to 880 pupils, 5 to 13 years old, from 33 cities, villages and islands of Greece. They were indicatively selected among artworks submitted to the annual panhellenic drawing exhibitions of the program during the past decade.
The Exhibition titled "Seas, forests and mountains are our treasure" was co-organized in 2012 by the Hellenic Marine Environment Protection Association -HELMEPA and the Museum of the City of Athens Vouros-Eutaxias Foundation and was presented at the Museum's historic building.
Through their artworks, the children artistically express their environmental concerns sending to all of us messages regarding the need to protect Earth, our one and only "home".
As mentioned by the Mayor of Paleo Faliro, Mr. Dionysis Chatzidakis in his foreword in the Exhibition's catalogue: "The Municipality of Paleo Faliro, particularly sensitive on issues relating to environmental protection and culture, is hosting this Exhibition that combines both, so as to provide an opportunity to us all for awakening, thought and active participation in efforts to protect the environment and improve our quality of life."
The inauguration will take place on Monday 11 March, at 18:30. The Exhibition will be visited by local schools and will be open to the pubic daily and during weekends, 09:00 – 14:00 and 17:00 – 21:00.