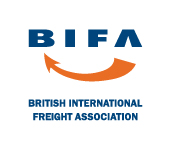 The guest speaker and host for the BIFA – www.bifa.org – 25th Freight Service Awards 2013 luncheon ceremony is a television star who has brought the beauties of our nation's countryside into the front room of every house in Britain.
In a neat twist of fate, noted long-distance walker and BBC Countryfile presenter Julia Bradbury will take to the podium at the glittering Awards luncheon to be held in London, just as Countryfile reaches its own Silver Jubilee.
Peter Quantrill, BIFA Director General, says: "Julia Bradbury is one of
the most well-known and popular presenters on British television,
especially famous for her no-nonsense approach on BBC1's prime time
consumer series Watchdog, and I am sure she will bring a little bit of
television stardust to our event.
Julia will entertain guests with an after-lunch speech, and present
Award finalists with their certificates, and the nine deserved winners
with their trophies.
This year's host sponsor is DP World London Gateway – the UK's new world
class deep sea container port and Europe's largest logistics park,
designed to help exporters and importers reduce costs and improve supply
chain performance.
There is still time to enter BIFA's annual Freight Service Awards
competition, celebrating 25 years of recognising the best in the UK
freight forwarding industry, and entry registrations for any of the
categories can be made online at: www.bifa.org/awards > Enter Now.
BIFA must receive registrations to enter the Freight Service Awards 2013
by 17:00 hours on Friday 20th September 2013; with submissions and
supporting documentation due in to BIFA by 17:00 hours on Friday 11th
October 2013.
Judging meetings will be held in mid-November to select and reveal four
finalists in each category, while winners will be announced at the
Awards ceremony itself, taking place on Thursday 16th January 2014 at
London's popular venue, the Brewery in Chiswell Street..
The winner of the Young Freight Forwarder Award will receive a cheque
for £1, 000 and be nominated as the UK candidate for the Young
International Freight Forwarder of the Year Award 2013.
More than 500 people including BIFA Members and their guests are
expected to attend the ceremony. The luncheon will provide a valuable
opportunity for attendees to acknowledge the winners as well as
networking with key figures from within the industry.
The nine BIFA Freight Service Awards 2013 are as follows:
General Categories:
• Environment Award – sponsored by Red Recruit
• Project Forwarding Award – sponsored by Peter Lole & Co
• Special Services Award – sponsored by Forward Computers
• Staff Development Award – sponsored by Albacore Systems
• Supply Chain Management Award – sponsored by BoxTop Technologies
Modal Categories:
• Air Freight Award – sponsored by IAG Cargo
• Ocean Freight Award – sponsored by CargoWise
• European Logistics Award – sponsored by TT Club
Individual Category:
• Young Freight Forwarder Award – sponsored by Virgin Atlantic Cargo
Further information relating to ticket bookings for the luncheon
ceremony on Thursday 16th January 2014, can be obtained by visiting the
BIFA Awards web pages at www.bifa.org/awards > Awards Ceremony > Book
Tickets.