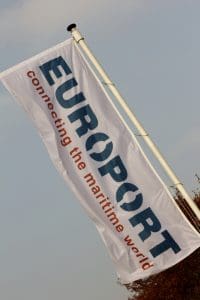 Two weeks before the doors open at Europort, Rotterdam, organiser Ahoy is finalising arrangements for the event that promises to provide a benchmark for the 'state of the global maritime and offshore industry' in late 2013.
Alongside attendees at its Advanced Technology Conferences industry seminars and networking opportunities, over 1, 000 exhibitors will be present at Europort 2013, which takes place November 5-8 at Ahoy Rotterdam. This year, companies from 39 countries will participate, with international organisations accounting for 45% of all exhibitors.
"Technical innovators will populate all 10 of the Ahoy exhibition halls", says Raymond Siliakus, Europort Exhibition Manager.  "Among them will be the designers and engineers shaping the maritime and offshore industry's future all over the world."
In line with its 'Pioneers in Maritime Technology' theme, Europort's free of charge Advanced Technology Conference programme includes six, half-day sessions focusing on: Mega Yachts; Sea Shipping; Workboats; Offshore; Inland Navigation; and Construction Vessels. Each conference stream will explore routes to vessel efficiency for the world's most sophisticated ships.
Europort 2013 also plays host to Mare Forum, the industry's top level forum for exchanging ideas. This year's speakers include luminaries such as Joseph J. Cox, President, Chamber of Shipping of America, George Gratsos, President, Chamber of Shipping, Greece, past Bimco President Philip Embiricos, and Torsten Klimke from the European Commission's Unit for Maritime Transport and Logistics.
International trade missions from Russia, Turkey, Morocco and Brazil will also be in attendance. In the case of Brazil, a maritime and offshore industry trade mission from Rio Grande Do Sul will attend a special Association of Dutch Suppliers in the Oil & Gas industry (IRO) seminar and networking event on November 6th. The seminar will include a presentation by Samir Passos Awad, Managing Director Petrobras Nederland.
Petrobras Rotterdam office Managing Director, Newton Vierivalves Sobrinho, says: "Europort is one of the biggest exhibitions in the entire international maritime and offshore events calendar. This is our backyard."
The number of national pavilions has also grown this year, to 16. "The national pavilion option offers the opportunity for some of the industry's lower profile innovators to shine, " comments Siliakus.  The Chinese pavilion alone extends over four islands and includes 39 companies from all over China.
French industry association GICAN comments: "We are particularly proud to present competitive French companies at Europort at the cutting edge of innovation."
With visitor numbers once more expected to exceed 30, 000, the Europort 2013 exhibition will be opened by Melanie Schultz van Haegen, Minister of Infrastructure and the Environment of the Netherlands. The ceremony will be preceded by an address from Govert Hamers, Chairman of Sea Europe, the association representing Europe's shipbuilding and marine equipment interests.
Mr Hamers will emphasise the challenge global competition is bringing to the European marine equipment sector. "To survive in a globalised industry, European suppliers need to retain their technical edge through research and development, " he says. "Europort is one of a handful of 'major league' shows around the world that brings together the maritime industry's decision makers."