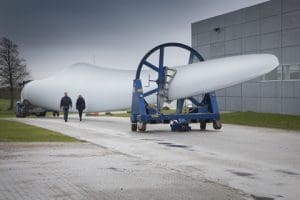 Neuilly-sur-Seine, France, March 10, 2014 – Bureau Veritas, a global leader in testing, inspection and certification, has announced the signing of a framework agreement with LM Wind Power, the world's leading supplier of components and services to the wind industry. The framework agreement covers the certification of wind turbine blades to international standards.
The contract follows a successful collaboration between both companies, sharing knowledge and working together to fully understand the requirements and needs. This engagement and shared commitment are now cemented with the framework agreement and the first certification assignments are being undertaken.
LM Wind Power's VP Business Development & Strategic Alliances, Frank V. Nielsen, is confident that the new agreement will benefit LM Wind Power's customers and the industry in general.
Says Nielsen, "We already have a successful working relationship with Bureau Veritas on our ISO 9001/14001 and OHSAS 18001 certifications. It was only natural for us to include the rotor blade certification as well, thereby effectively expanding the qualified certification offer in the industry. Based on its large competence base, customer focus and global footprint, Bureau Veritas lives up to our requirements for a value-adding certification, which allows us to deliver a documented and highly reliable product to our customers."
"Bureau Veritas Certification is proud and delighted to be working with a leader in its field like LM Wind Power, " says John MacAskill, Head of Renewables for Europe. "Almost one in four blades worldwide is an LM Wind Power blade. The confidence shown in Bureau Veritas is significant and we look forward to supporting it in this exciting and growing market."
Bureau Veritas is attending the EWEA trade show (Stand 6-C13) in Barcelona (Spain) from 10 to 13 March 2014.
About Bureau Veritas
Created in 1828, Bureau Veritas is a global leader in Testing, Inspection and Certification (TIC), delivering high-quality services to help clients meet the growing challenges of quality, safety, environmental protection, and social responsibility. As a trusted partner, Bureau Veritas offers innovative solutions that go beyond simple compliance with regulations and standards, reducing risk, improving performance and promoting sustainable development. Bureau Veritas is recognized and accredited by major national and international organizations and works across a wide range of industries worldwide. In 2012, the group posted revenues of €3.9 billion; the company has 62, 000 employees worldwide, with 1, 340 offices and laboratories, in 140 countries. Bureau Veritas is listed on the Euronext Paris Stock Exchange (stock symbol: BVI). www.bureauveritas.com
About LM Wind Power
LM Wind Power is the leading provider of rotor solutions and service to the wind industry, operating from or close to all major markets for wind. LM Wind Power has produced more than 160, 000 blades in the course of more than 35 years corresponding to approximately 63 GW installed wind power capacity. www.lmwindpower.com
"Jo"