You all know of our support and the sensitivity we have at www.allaboutshipping.co.uk  for Arts, Arts of any kind, as well as how important any form of Art is for the Shipping Industry in its entirety; just for the record, the minimum you need for a cruise vessel is the commissioning of over 1, 000 (yes one thousand) original paintings. Did I hear you say Maritime Art? Look around you as you enter any bank's or legal practice's or any company's reception area and the first thing you see is an object of Art!
We have devoted nearly a hundred and fifty articles and news on Arts, Paintings et al with James Brewer being this medium's spearhead in these particular categories, and currently, as we travel across South East Asia, we are more than pleased and lucky too to attend the "Ecstatic Breath of Freedom" exhibition in Singapore, as well as other Arts events in the wider periphery.
"Ecstatic Breath of Freedom" by Nikos Kypraios marks the master artist's second solo exhibition in Singapore and also in Asia. Using voiceless fishes to symbolise humanity whose voice has been muzzled by popular media and impersonal markets, Nikos urges viewers to be mindful of their surroundings as well as the way the environment has been treated.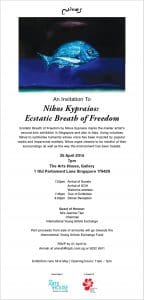 The opening/private view day is on the 25th of April at 7pm at the Arts House Gallery, at 1 Old Parliament Lane, Singapore- for further information, please see the invitation herein.
There will be a tour of the exhibition at 7:45 p.m., and thereafter a dinner reception, Guest of honour: Mrs. Jeannie Tien, Chairman of the International Young Artists Exchange. Part of the proceeds from the sale of artworks will go towards the International Young Artists Exchange Fund.
The Exhibition runs until the 6th of May with opening hours 11am to 7ppm. Hope to see you there.