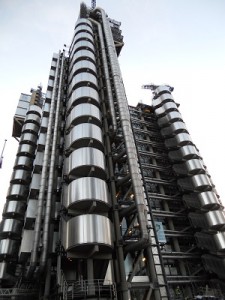 Wednesday  04 June 2014 – The first-ever African catastrophe insurance pool has been launched to cover drought losses in five countries, with the hope that it will expand over time to encompass more of the African countries within the World Food Programme. (source: Lloyd's of London)
The news comes as food shortages and violence in the conflict-torn nation of South Sudan is putting a third of the country's 12 million population at risk of starvation, according to a warning from the United Nations' Food and Agricultural Organization (FAO).
"There is a small window of opportunity to prevent this terrible crisis from deteriorating into catastrophe, " said Sue Lautze, FAO head of office in South Sudan.
The impending famine is a result of such factors as conflict, displacement, destroyed markets and disrupted livelihoods, according to the FAO. While not all famine is directly linked to drought, lack of rainfall and how this impacts agricultural production, is typically a major contributing factor.
Public private response
The new African catastrophe insurance pool ("cat pool") has been launched by the African Risk Capacity (ARC), a mutual agency set up by the African Union to help member states become more resilient to extreme weather events and to protect food-insecure-populations.
"We've got much better at disaster relief than we were in the 1980s, " says David Simmons, managing director of Analytics at Willis Re. "Thankfully these days it is relatively rare to have a major loss of life following a drought, but there are still problems. When the aid money arrives it often arrives rather late, and quite often when it arrives the individuals affected, including the farmers affected, have had to take emergency action just to stay alive, including selling off their animals, feed stock and tools… so it can take a long time to recover.
"The aim of this capacity is not to replace the aid funds that might be expected to flow after a major crisis, but to make sure that sufficient funds are available quickly so steps can be taken to protect the farmers' livelihood, and so their ability to return to normality as soon as possible."
The scheme stakeholders hope the cat pool will reduce African governments' reliance on external emergency aid. It is also hoped that it will ensure that governments involved in the scheme will not be forced to reallocate funds from essential development projects to crisis responses, thereby exacerbating problems in other areas of their economies.
Domiciled in Bermuda, ARC has issued $135m worth of insurance policies to a group of African governments, initially comprising Kenya, Mauritania, Mozambique, Niger and Senegal. Germany and the UK's governments have contributed the initial capital and are also the mutual's founding members.
Broker Willis has secured $55m of index-based reinsurance capacity for the cat pool. In total there are 12 reinsurers on the programme, including Munich Re, Swiss Re, Hannover Re, Africa Re as well as Chaucer and Liberty Syndicates from the Lloyd's market.
"Initially each country is covering one staple crop, " says Simmons. "Over time they may decide to segment the country and segment the index so it works with different crops in different areas."
While the cat pool is the first for Africa, it has benefited from the success of other catastrophe pools in other parts of the world. The Caribbean Catastrophe Risk Insurance Facility (CCRIF) was the world's first multi-country cat pool, set up in 2007 to indemnify 16 governments against the losses wrought by hurricanes and earthquakes.
A similar scheme is currently being planned for Central American countries, while a separate Asian cat pool is being mooted by the ASEAN nations.
"The CCRIF is seen by the World Bank as a poster child or template of what could work elsewhere in the world, " says Simmons.
Insurance policies provided through the ARC cat pool are provided on a parametric basis, with claims payouts triggered at or before harvest time if the rains during a particular growing season have been poor.
In developing its parametric index ARC utilises Africa RiskView, developed by the UN World Food Programme, to estimate crop losses and drought response costs before a season begins and as it progresses.
"The great thing about parametric cover is the speed of response, " says Simmons. "NASA satellite rainfall data is available almost instantaneously. You can monitor the growing season on a daily basis and as soon as the growing season is over you will know whether cover is triggered or not – therefore the money can be sent promptly.
"If you want the money to be deployed quickly you don't want this lengthy period of sending the loss assessors out and checking if there is a valid claim, " he adds. "Maybe the country is difficult to get around, maybe communications are not good… these are all factors that can cause delay at a critical time."
Simmons expects similar index-based approach could be developed for microinsurance schemes in Africa in the future. "It is quite a complicated index and it needs to be because it has to ensure the basis risk is very low, " he says. "But similar approaches may be adapted for more localised, targeted schemes."
Risk education process
Aside from the indemnification offered to African governments via the cat pool, the scheme also encourages a greater level of risk awareness in the participating countries. "Before a country is allowed to join the programme they have to spend a year customising the index and setting parameters, deciding what levels of attachment and exhaustion they want to apply, " says Simmons. "So they develop a deep level of understanding of how the contract works.
"The countries have to go through year-long testing and have to satisfy various criteria to ensure that when the money is received it will go to the appropriate people, " he continues. "The countries come up with a disaster response plan before they can receive any money which actually explains where that money is going to be spent.
"The money should trickle down to the grass root level and you would hope structures would be put in place in the different countries to share and deepen risk awareness, " he concludes. "Greater understanding should improve the resilience within each of the individual countries."