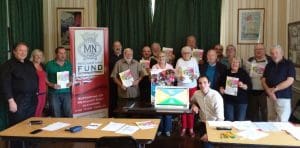 Since its launch in 2012, the Merchant Navy Fund has helped hundreds of ex-seafarers. Grants administered by Seafarers UK have been paid to charities that required funding to provide services for British men and women who have served in the UK Merchant Navy.
Sailors' Children's Society added a brand new holiday caravan to its small fleet around the UK. The 'mobile home' at Prestatyn offers respite accommodation for UK Merchant Navy families who need a break. Sailors' Children's Society was formed in 1821 and is a national charity providing support for over 400 disadvantaged children of seafarers. For further information contact Deanne Thomas, Sailors' Children's Society, phone 01482 342331.
In Surrey, Care Ashore (previously known as The Merchant Seaman's War Memorial Society) provides sheltered housing and residential care for ex-seafarers. A grant from the Merchant Navy Fund enabled the charity to provide new recreation and exercise facilities for residents. For further information contact Trevor Goacher, Care Ashore, phone 01403 752555.
On the Wirral in Merseyside, Mariners' Park – run by the Nautilus Welfare Fund – is probably the UK's best-known care home and independent housing for ex-seafarers. As it continues to grow, Mariners' Park wanted to add new facilities for residents on the 16-acre estate. A grant from the Merchant Navy Fund contributed toward the cost of a wheelchair-accessible garden specially designed to meet the needs of dementia sufferers. For further information phone Mariners' Park on 0151 346 8840.
A grant to the Merchant Navy Welfare Board enabled a 'Digital Inclusion' pilot project to be started in three homes for ex-seafarers – Care Ashore's Springbok Estate, Sir Gabriel Wood's Mariners' Home (in Greenock) and Mariners' Park. Providing user-friendly internet access for beginners, with 'hands on' introductory training, this project utilises innovative software that makes IT less intimidating for older people.
These grants were only possible thanks to the generosity of donors to the Merchant Navy Fund. If you would like to arrange a one-off payment or regular donation to support British Merchant Navy men and women and their families when they need help, please contact Julie Behan at Seafarers UK, phone 023 9269 0324, email julie.behan@seafarers-uk.org, or visit the website at www.merchantnavyfund.org