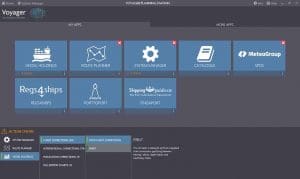 Global Navigation Solutions ('GNS'), is pleased to announce that Briese Schiffahrt, operators of Germany's newest research vessel,  RV Sonne, have chosen to install Voyager navigation software on the new German research vessel. The new eco-friendly and energy-efficient 'Sonne' was launched by Chancellor Merkel on 11 July 2014 and replaces a vessel of the same name, which has been in service for 44 years.
'Sonne' will carry the GNS Voyager Package 3, which provides the crew with route planning capability, inventory management and automatic updating of paper and digital charts, as well as easy ordering and cataloguing, together with a free AVCS and Admiralty Information Overlay (AIO) viewer.
Bjorn Woge, Managing Director of HanseNautic, GNS's office in Hamburg commented: "Voyager will provide Sonne with significant savings on time and cost and ensure the vessel avoids the compliance issues which are a growing everyday headache for ship managers."
Klaus Bergman from Briese Schiffahrt added: "We see great operational advantages and cost savings from having our vessels carry the best paper and digital navigational software. We are delighted to be partnering with GNS."
Global Navigation Solutions (GNS) was formed in November 2012 to provide an extensive range of maritime services to shipping companies worldwide. GNS brings together the best distributors of maritime navigation solutions from around the world, providing its customers with outstanding money saving products and services, and innovative new solutions. It provides the best existing maritime brands, including British Admiralty, and works with specialist service providers around the world to design and produce intelligent user-friendly solutions which streamline and simplify the art of navigation.  With technical expertise available from centres around the world, Global Navigation Solutions offers the knowledge to resolve queries and technical problems fast. The Company is owned jointly by its senior management team and Phoenix Equity Partners.