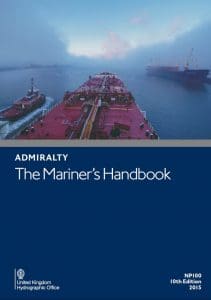 Tenth Edition of renowned guide to essential maritime information now available in an updated format
In response to user feedback and an improved understanding of how the publication is used, the United Kingdom Hydrographic Office (UKHO) has published the Tenth Edition of the ADMIRALTY Mariners Handbook (NP100), which is available in both printed format and as an e-NP.
First published in 1962, the tenth edition is now easier to use and understand. NP100 has long been acknowledged as an essential, 'must-have' publication for all seafarers, maritime training schools and shipping company offices. NP100 provides maritime information on charts and their use, the communication of navigational information, the maritime environment, including sea and ice conditions, restrictions to navigation and maritime pollution and conservation (MARPOL).
The handbook also contains COLREGS information, a comprehensive description of the IALA Maritime Buoyage System and an improved glossary of nautical terminology.
Key improvements include an improved structure and tabular layout to the handbook, making it quicker and simpler for mariners to locate the exact information that they need and the addition of QR codes throughout the publication to increase usability and ensure that the most current data is available.
The glossary section of NP100 has been re-written, laid out in tabular format and complemented by additional images and diagrams to provide seafarers with a better understanding of the relevant terminology, as well as improved comprehension for those who don't speak English as their first language.
Susie Alder, Product Manager – Publications, UKHO commented:
"Our new edition of NP100 providers further support for mariners in their use of all ADMIRALTY Nautical Products and Services, as well as covering broader maritime topics. First published in 1962, the latest changes will make it easier and quicker for the mariner to assimilate complex navigation information and to find the exact information that they need. We believe these important updates will further strengthen the wide-ranging use of the Mariners Handbook across the shipping industry and ensure that it continues to serve as an essential tool for the mariner, whether in print or digital."
This edition supersedes the Ninth Edition (2009), which is cancelled.
About the United Kingdom Hydrographic Office
UKHO produces a worldwide series of some 3, 500 paper nautical charts, 200 publications under the ADMIRALTY Nautical Products & Services brand and Electronic Navigational Charts (ENCs). The ADMIRALTY Nautical Products & Services portfolio is sold globally and used by over 90% of the ships trading internationally.
UKHO, an Executive Agency of the Ministry of Defence, has been charting the world's oceans for more than 200 years with the primary aim of providing navigational products and services for the Royal Navy and merchant mariners to save and protect lives at sea. In addition it serves small craft and leisure mariners and provides a range of consultancy services.
UKHO also plays a central role, in support of the Maritime and Coastguard Agency, in discharging the navigation element of the UK's Safety of Life at Sea Treaty obligations for waters of UK national responsibility.
"Jo"