UNITED OCEAN LINES IS LAUNCHING "UOL CONSOLIDATORS"
Accepting additional members
Consolidation Service – a quality product
Being embedded into the structures of United Ocean Lines, UOL CONSOLIDATORS is targeting the business segment of
consolidation cargo as well as pick and pack.
From the booking process to the delivery of goods, several measures are needed to ensure a maximum of reliability,
speed and safety. During the entire transport process, the consignment is monitored by the agents of UOL
CONSOLIDATORS and its contracted partners. Same to ensure the control of the flow of goods, transit time, cost and
accuracy of information been provided.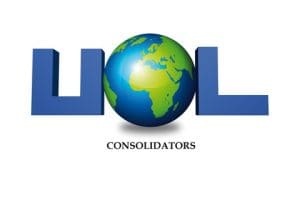 UOL CONSOLIDATORS will have full access to all obtained licenses, security bonds as well as the duly ensured Bill of
Lading, enabling acceptance of goods under letter of credit as well. Also the well proven principle of exclusivity will be maintained at "UOL CONSOLIDATORS". In addition a franchise agreement will be offered, enabling an operation under a
common brand name.
Aiming to offer an alternative to co-loading arrangements, UNITED CONSOLIDATORS will contribute to the existing volume of consolidation cargo already handled by also introducing additional network partner, dedicated to this particular segment.
Having reached a relevant number of consolidated cargo movements within the existing community of United Ocean
Lines the given target is to further grow the involvement in the particular segment of consolidation cargo and LCL
shipments, adding new business partners as well as to grow the territorial cover. Same also will enable small and
medium sized consolidators to step by step replace existing co-loading arrangements by own developed regular boxes,
keeping the achieved yield in-house.
ABOUT UOL
United Ocean Lines has been founded in 2002 with aim to create a neutral and independent NVOCC in the logistic field.
To follow UOL news: www.unitedoceanlines.com
ABOUT NAXCO GROUP
NAXCO is one of the largest fully integrated shipping and logistics provider. The French private Group, founded in 1967, is a leading and innovative global partner, present in all segments of the transport chain. With an extensive experience and through a reliable network, we offer complete, top-quality services tailored to our client's needs and expectations. NAXCO Group, headquartered in France, is composed of 24 subsidiaries and 450 employees worldwide, all active in shipping agencies, forwarding and logistics, port agency services to ships and NVOCC. NAXCO Group continues to expand through acquisitions, joint ventures and partnerships,
to serve you better.