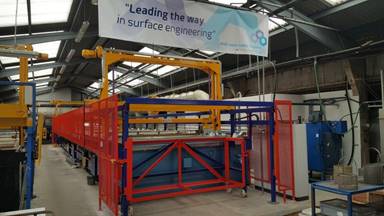 ***£250, 000 finance package has helped South West Metal Finishing purchase automated plant***
*** Tartaric Sulphuric Acid Anodising process was chosen by Airbus as a replacement for Chromic Anodising***
***The plant has created 16 new jobs***
A UK metal finishing company has secured a £250, 000 finance package from HSBC to purchase a state-of-the-art treatment plant, creating 16 new jobs.
HSBC FUNDS STATE-OF-THE-ART PLANT FOR SURFACE TREATMENT COMPANY
South West Metal Finishing, which provides surface finishing services to sectors including aerospace, marine and automotive, has acquired the plant to replace an existing acid anodising process which is being phased out in new legislation. Acid anodising is used primarily for corrosion protection on vehicles and equipment such as aeroplanes, submarine casings and dental implants.
The £250, 000 asset finance package from HSBC was complemented by a £100, 000 loan from the Regional Growth Fund (RGF) to meet growing demand for the new process. The purchase and installation of the automated plant has resulted in the creation of 16 new jobs, including production operators, administrators and management positions.
Jackie Jacobs, finance director at South West Metal Finishing, said: "There is huge growth in this area, especially since the Tartaric Sulphuric Acid Anodising process was chosen by Airbus as a replacement for Chromic Anodising. We've been offering this service on a small scale since 2014, but thanks to HSBC and the RGF we can now offer it on a much larger scale in a more efficient and productive way for our customers. We now expect our turnover to double each year for the next five years."
Steve Hancock, HSBC's Area Director for Devon, Cornwall and Somerset, commented: "We continue to support the growth aspirations of South West Metal Finishing, most recently by providing an asset-based finance package which gives the business greater flexibility to purchase what it needs, when it needs it.  It's a package that will support the smooth running of the business and create more jobs in the local community.
"HSBC has allocated a £700 million lending fund to support SMEs in the South West this year and South West Metal Finishing is a fantastic example of the type of business that can take advantage of the funding."
The new plant has been full tested and commissioned and is now fully operational.
For the latest updates, visit the UK Business Press Office social media newsroom:
http://www.newsroom.business.hsbc.co.uk http://twitter.com/HSBCUKBusiness
HSBC Holdings plc
HSBC Holdings plc, the parent company of the HSBC Group, is headquartered in London. The Group serves customers worldwide from around 6, 000 offices in 71 countries and territories in Europe, Asia, North and Latin America, and the Middle East and North Africa. With assets of US$2, 596bn at 31 March 2016, HSBC is one of the world's largest banking and financial services organisations.
HSBC Commercial Banking
For 150 years we have been where the growth is, connecting customers to opportunities. Today, HSBC Commercial Banking serves businesses ranging from small enterprises focused primarily on their domestic markets through to corporates operating globally. Whether it is working capital, term loans, trade finance or payments and cash management solutions, we provide the tools and expertise that businesses need to thrive. As the cornerstone of the HSBC Group, we give businesses access to a geographic network covering more than 90% of global trade and capital flows.
For more information see http://www.hsbc.com/about-hsbc/structure-and-network/commercial-banking