OMFIF UPDATE – WEEK 22 2019   27-31 May 2019 Vol.10 Ed.22
Joergen Oerstroem Moeller on the future of the Conservative party, Mark Sobel on renminbi depreciation, and more
COMMENTARY 
New evaluation for Belt and Road
At the Belt and Road summit, participating countries presented a new approach to assessing the benefits of BRI projects. The statement issued by China and BRI recipient countries calls for 'results-based co-operation', with each initiative assessed on its potential contribution to the SDGs, says Herbert Poenisch.
PODCAST 
The future of central bank digital currencies
Jonathan Dharmapalan, founder and chief executive of eCurrency, and Teunis Brosens, lead economist for digital finance at ING Group, join OMFIF's Bhavin Patel, to discuss the future of central bank digital currencies. They cover the difference between currency and payment systems, and more.
Long-run economic growth in CESEE
Potential growth estimates for many central, eastern and southeastern European countries are low. This raises doubts over the speed of convergence. This seminar will discuss the key goals, priorities and implementation strategies aimed at ensuring sustainable economic growth and development.
Only Boris Johnson 'can defeat Farage'
The UK's exit from the European Union has turned into an operation to stop Nigel Farage from destroying the Conservative party, writes Joergen Oerstroem Moeller.
Boris Johnson is the only one who can stand up to him in populism and slogans.
The only way is to 'out-Farage' Farage and steer towards a no-deal Brexit.
Sustainable investment & financial innovation
A roundtable discussion with Michael Sheren, senior bank adviser from the Bank of England on bringing global sustainable finance into the mainstream. Attendees will discuss opportunities to collaborate with financial institutions and to embrace green finance and responsible investing.
China Railways and financial stability 
A defunct 1907 Chinese Imperial Railways loan certificate at an OMFIF lunch demonstrates the virtues of financial stability, discussed by David Marsh and John Adams (OMFIF), Jianhai Zhu (Agricultural Bank of China) and Elisabeth Stheeman, highlighting her work on the Bank of England Financial Policy Committee.
Renminbi depreciation chances growing
The renminbi has fallen anew. While a US-China trade deal would create global risk-on sentiment and strengthen the renminbi, the probabilities it could breach the key threshold of Rmb7 per dollar are escalating, not because of 'weaponisation' but rather economic realities, writes Mark Sobel.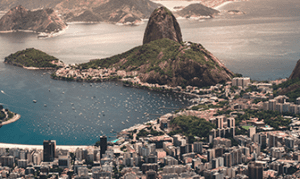 MEETING 
Brazilian economic outlook
Brazil has seen a marked change of political leadership, with major consequences for the country. This breakfast briefing with Tiago Berriel, deputy governor of Banco Central do Brasil, will cover the economic climate in Brazil, projected growth in the country and expected fiscal and monetary reforms.
Fed talk
John Plender, non-executive director at OMFIF and a columnist at the Financial Times, joins Rein de Loor, programmes manager at OMFIF. They discuss the Federal Reserve's outlook for monetary policy and the US economy, reserves management and global affairs affecting the financial system.
NEWS 
Risks in a maturing credit cycle
At an OMFIF roundtable in New York, Fabio Natalucci, deputy director of the International Monetary Fund's monetary and capital markets department, outlined the main findings of the IMF's global financial stability report, drawing attention to the major risk areas for the future.