Chios Marine Club Vasilopita event
Despite the Coronavirus disruption but within the protocol regulations limit, the Chios Marine Club Vasilopita event took place earlier on tonight at the CMC's members room in Piraeus.
Present were the president captain Antonis Pitsilos, vice president Mike Kasmas, general secretary Nikolaos Kakalis, special secretary Maria Tripolitis, member of BoD Panagiotis Kamarados and the head of the Secretariat Mary Metaxaki. Father Dimitrios Balkanas officiated – his wife emanates and was also born at the heroic Island of Psara.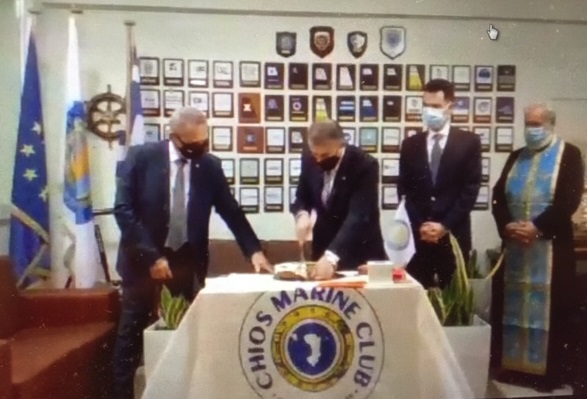 The luck punter was CMC's Vice President Mike Kasmas!
There was also a raffle for just two winners who …clinched two gift vouchers kindly donated by Public stores. The lucky winners were Captain John Los and Damianos Zanaras.
The event was also on live stream and at the time of uploading same there were over 300 attendees and over 50 comments – well done.
At the end there was a sort speech by Capt Antonis Pitsilos; he said:
"We are here today at the Headquarters of the Chios Marine Club to honour the New Year 2021 by cutting the traditional Vasilopita with father Dimitrios officiating. This Year's event coincides with the Greek Revolution of 1821, its bicentennial! To honour this special event our desk diary's cover has a picture of the Heroic Island of Psara which offered a lot in all respects for Greece's Independence!"
"Thank you all as well as for all those who attend the event on live stream. Happy and Healthy 2021, success in business and let us win over the Coronavirus issue.".
Viewers can listen to a sort video: https://www.facebook.com/chiosmarineclub/videos/879479836151886/