HFW | Charterparty insurance terms and cargo's liability in General Average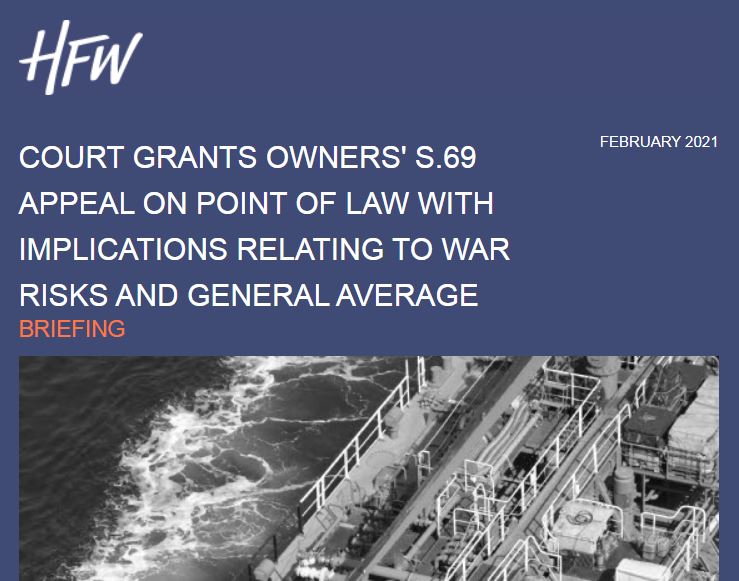 Herculito Maritime Ltd and Others v Guvnor International BV and Others (the "POLAR") [2020] EWHC 3318 (Comm)
In this recent arbitration appeal with implications for owners, charterers and bill of lading holders, the High Court considered whether owners were prevented from recovering from cargo interests in General Average (GA) due to provisions in the charterparty allocating liability for additional insurance premiums. Cargo interests argued that those provisions were incorporated into the bills of lading and, therefore, that in an extension to the principles in The Evia (No2) and The Ocean Victory, they formed a "complete code" or "insurance-based solution" as between owners and bill of lading holders which prevented owners from recovering from cargo interests in GA in the event of loss caused by covered risks. The Court disagreed and upheld the owners' right to recover.
The MT POLAR was captured by pirates in the Gulf of Aden on 30 October 2010 and released on 26 August 2011 following payment of a ransom of US$7.7 million. At the time of the pirate seizure, the vessel was on charter and carrying a cargo of approximately 70,000mt of fuel oil pursuant to the terms of six bills of lading. After the vessel's release, to obtain delivery of the cargo, cargo owners provided a GA bond and their insurers provided a GA guarantee. A GA adjustment was subsequently issued which determined that a sum of over US$4.3m was due from cargo interests to owners.
The charterparty contained a Gulf of Aden Clause intended to address the high risk of piracy in the Gulf of Aden at that time, a War Risks Clause (at clause 39) and an Additional War Risks Clause.
To read the full article, please click here to download the PDF.