Youth Match Racing Worlds, DAY 1: Jeffrey Petersen (USA, Balboa YC) continues his winning ways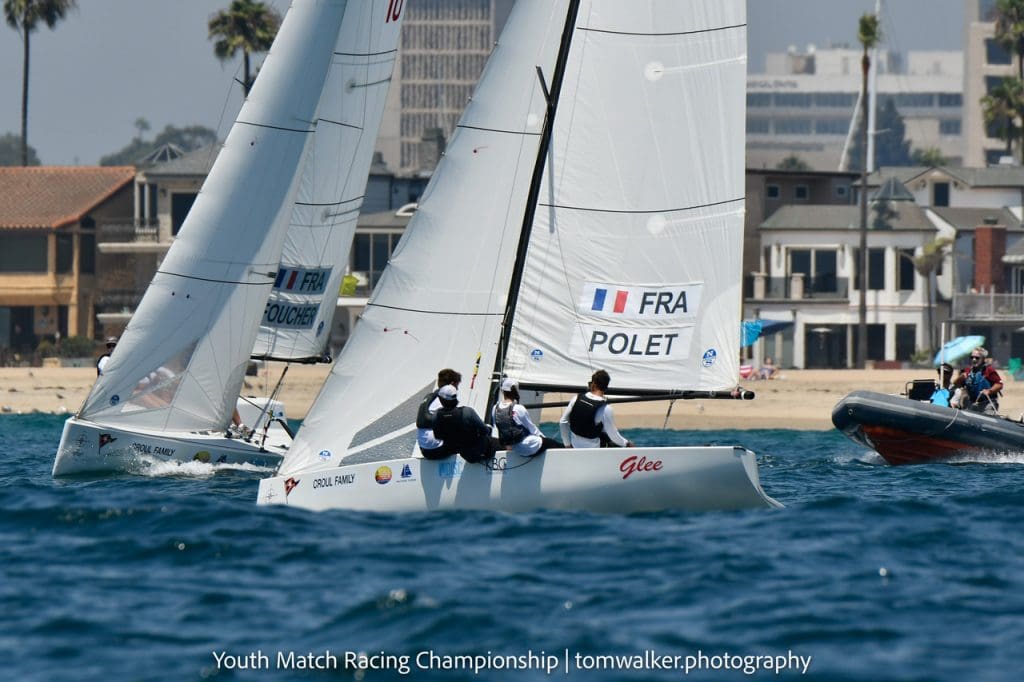 Newport Beach, CA (BYC Media Team – August 10, 2021) — Jeffrey Petersen (USA) of host Balboa Yacht continued his successful summer run of match racing, winning seven races against zero losses to lead the fleet on the first day of the Youth Match Racing World Championship, giving him a 2-point lead over the other eight competitors. In June Petersen was crowned U.S. Youth Match Racing Champion. Last month he won the 54th Governor's Cup, the prestigious international youth match racing championship, the oldest youth match racing regatta in the world. 
Not surprisingly, in second after the first day was Emil Kjaer (DEN, Royal Danish YC) who finished just behind Petersen in the "GovCup" after a close 3-2 final series.  Kjaer stands at 5 points having lost to Petersen today, and, in a minor upset, to Ansgar Jordan (USA, Coronado YC). Jordan later summed up their race by saying the penalty that Kjaer incurred did not decide the race but certainly helped. Later in the race, Jordan was able to tack and lay the final mark just ahead of the Dane. "It also helped that Emil went left on the last windward leg and let us go to the right," said Jordan. As is typical later in the day in the ocean off Newport Beach, the wind will tend to increase and shift to the right.
Riccardo Sepe (ITA, FIV), the reigning European Youth Match Racing Champion, is tied with Kjaer on 5 points for second, although such a tie would be broken, were the regatta to be decided after today, in favor of Kjaer who won their match.
Tom Foucher (FRA, APCC Voile Sportive), a product of a recent effort in France to emphasize youth match racing led by Congressional Cup winner Mathieu Richard, is in fourth position with 4 points including a notable "rivalry" win against countryman Thimoté Polet. Polet is on 3 points along with Jordan and local favorite David Wood (USA, Balboa Yacht Club). Wood would have been tied with Foucher based on his won-loss record but was penalized one point for a collision at which he was at fault. The records show that any one of the six top teams could finish the round robin in the top two, giving them a berth in the semi-finals.
However, at this point, all sailors are still in contention as only one semifinalist is chosen from the round robin stage. The other eight teams will race a third, "repechage" round robin from which top three teams will advance to the semi-finals.
Petersen remained consistent as he had in the Governor's Cup. Prior to today's racing he said that he preferred the much stronger breezes in that event and hoped that he'd be fast in today's lighter winds. After the race, he said that he needn't have worried as, "We seemed to have a bit of an edge in speed all day."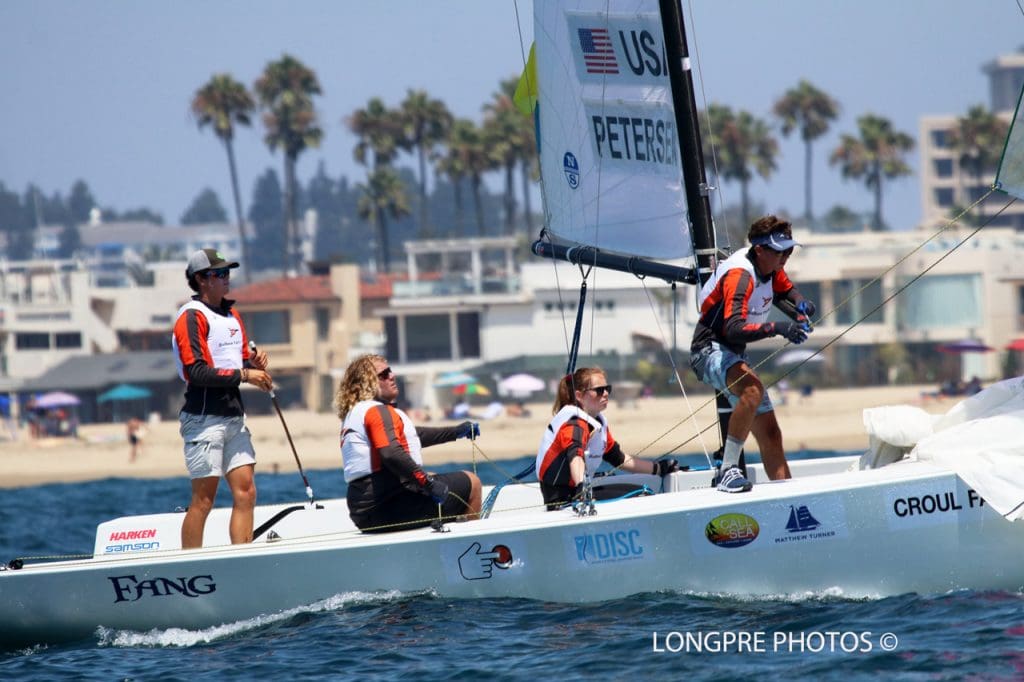 The start of his race with Kjaer was tense, however, as Kjaer had control over Petersen heading towards the Committee Boat and potentially forcing the American over the starting line early. However, Kjaer said, "We should have been more patient." Kjaer's last maneuver stopped his boat, with both boats within inches of each other, and Petersen turned the tables and sped away with the lead.
Petersen's race against the Italians was also a bit tense as he was behind at the downwind gate that ends the second leg of four-leg race. Again, his experience and boat speed won the race as Petersen immediately went right for the last upwind leg, finding more breeze and a shift that gave him the lead at a close cross later in the leg.
Tomorrow features a continuation of the round robin in conditions expected to be similar to todays with 5-7 knots of breeze in the late morning, increasing to 9-10 knots through the afternoon. The "Governor's Cup 22s" provided to each team in the event were designed to perform in both light and windier conditions.
The Governor's Cup TV team is covering the regatta with nine live shows this week, including all the racing on Friday and Saturday. There are pre-race shows at 0900 hours Pacific Daylight Time (UTC -7) each day through Saturday featuring the Competitors' Briefing and interviews with some of the competitors. Friday and Saturday's live racing coverage will begin at 1130 hours until end of racing with commentators Tom Ehman and Andy Rose. Friday at 1830, the press conference with the semi-finalists will be televised. Saturday's press conference will air at 1630 followed by the Medal Ceremony. Watch the live shows and replays on Facebook at www.fb.com/balboayachtclub.
The Youth Match Racing World Championship is presented by the Croul Family, long time Balboa YC members and supporters, and a host of BYC volunteers supervised by Chair Christine Gribben and World Sailing Technical Delegate Anne Malledant (FRA).