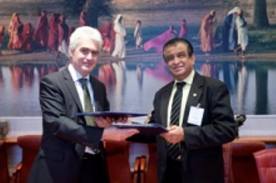 Partnership to boost global food security
Rome – FAO and World Vision International (WVI), one of the world's largest non-governmental humanitarian organizations, are joining forces in promoting global food security under an agreement signed at FAO Headquarters on 17th of November 2011.
The Memorandum of Understanding, signed by Laurent Thomas, FAO Assistant Director-General, Technical Cooperation Department, and Walter Middleton, WVI Partnership Leader for Food Security and Livelihoods, lays out terms and conditions for joint actions and projects for the  promotion of food security over a three-year period. Areas of potential collaboration include agricultural development projects, land tenure management, food price volatility and gender and nutrition programmes.
"As we sign this agreement today, hunger continues to threaten the lives of millions of women, men and children in the Horn of Africa, " said Thomas. "It is an acute reminder of the need for cooperation and long-term solutions. This agreement is about working together to implement those solutions."
Fostering improvements
The Memorandum of Understanding focuses on fostering improvements in early warning systems, preparedness in emergency responses, and gender and nutrition programmes – particularly field collaboration on nutrition issues.
"World Vision works in nearly 100 countries worldwide, and we have seen the devastating effects of malnutrition on children under the age of five, and their families, for more than 60 years, " said Middleton. "It shapes their entire lives.
This partnership will improve end-to-end support for food-insecure communities; from global agricultural policy decisions through to field-level agricultural livelihood projects that are sustainable, effective and resilient."
New opportunities
Thomas said the agreement leveraged the strengths of the two organizations, presenting new opportunities for both.
"We believe there are tremendous opportunities for joint work on agriculture development projects targeting improvements in productivity, sustainability and resilience, as well as issues of land tenure, watershed management and other natural resource management, " he declared.
"Ultimately this memorandum of understanding is about providing tangible improvements to the lives of children and communities hurt by hunger and malnutrition. The shared focus between the two organizations stands the partnership in good stead, " Middleton added.