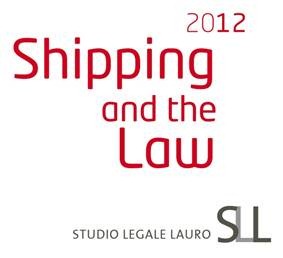 Naples, Italy, 03 October, 2012. Studio Legale Lauro is pleased to announce that the  Shipping and the Law conference, will once again be held in Naples, Italy on  Monday 08 October 2012.
This unique event brings together  leading figures in Italian shipowning, finance and maritime law community with  their international industry counterparts to debate and discuss pressing  industry issues.
This year, the proceedings focus  squarely on the aftermath of the Costa Concordia casualty and its implications  for operators and insurers. It also examines the continuing fight against  maritime piracy in terms of the Italian and international  responses.
A third session considers 'the  maritime industry through hard times' drawing on the expertise of maritime  legal, finance, shipbuilding and operational experts.
Conference organiser Francesco Lauro  of Studio Legale Lauro, says the conference will provide a vital forum for  debate on the realities of operating and investing in current turbulent  markets.
"Shipping and the Law has become the  natural venue where the Italian maritime industry comes together with the  international shipping community to talk about the issues affecting them both  nationally and internationally. The conference has a pedigree of attracting the  most qualified, expert commentators from across the shipping sectors to hold a  conversation on global themes."
Among the participants this year are  Francesco Berlingieri, President ad Honorem of Comité Maritime International and  Paolo d'Amico President of Confitarma, who will consider passenger shipping and  the impact on liability of maritime casualties.
Topics covered during the day include lessons to be  learnt in dealing with major casualties, recent piracy developments and guard  contracts, the do's and don'ts of cancelling shipbuilding contracts, balance  sheet restructuring in shipping and alternatives to traditional bank  finance.
Shipping & The Law 2012 will be held on Monday 8th  October 2012 at Villa Pignatelli, 200 Riviera di Chiaia, Naples, Italy. The  event includes a gala dinner on the evening of Monday 24th October at  the conference venue, the Hotel Excelsior, Naples, sponsored by CR Marine & Aviation and  Smit
Registration for the conference is  still available and further details, including the complete programme, a full  list of speakers and online registration can be accessed here: www.studiolegalelauro.it/shipping2012/shipping.html
For further information on the conference viewers can contact the organisers on: info@studiolegalelauro.it, tel: +39 081 5800199
About Studio Legale Lauro Established in 1993 in Naples, Studio Legale Lauro  offers a wide range of legal services in Maritime, Commercial and International  Law matters. Its lawyers provide specialised assistance in Shipping,   Transportation, Commercial, Corporate, Banking, Insurance, Construction and  Bankruptcy law, whether in an advisory capacity or as counsel in litigation  proceedings in Italian courts and arbitration tribunals. Through its work with  leading Italian and foreign shipowners, banks and financial lenders, Studio  Legale Lauro has developed significant expertise in Mergers & Acquisitions,   in Partnership and Joint Venture Agreements, and in various types of Financing  Transactions. It also regularly acts on behalf of Shipowners, P&I Clubs,   Underwriters, Charterers, Traders, Logistic Operators, Ship-Builders, Port and  Infrastructure Builders, Banks and generally for maritime and commercial clients  worldwide.