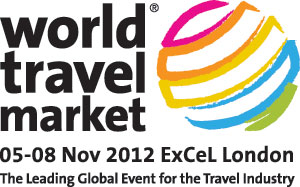 Worldpay, a major global leader in payment processing, is exhibiting at World Travel Market for the first time, to promote its significant investment in innovation and growth.
Peter Wickes, Worldpay's Vice President, Business Development UK/EMEA, said: "WorldPay considers WTM as a key event. We work with a large number of merchants in the travel market and it is a core sector that WorldPay focuses on.
"Reflecting our commitment to innovation in the travel industry, WorldPay has launched a roadmap to develop the service that it offers, which is supported by a significant investment."
WTM, the leading global event for the travel industry, has an even greater emphasis on technology this year, reflecting rapidly changing hi-tech developments.
The WTM technology area is 40% bigger than it was in 2010 and will be a further 30% bigger at WTM 2012. Worldpay recognises that WTM's technology area is the ideal place to promote its commitment to innovation, as £102m of business was transacted there last year.
To get even closer to key buyers in the travel industry, Worldpay is also sponsoring the WTM Travel Innovation Summit in association with TTI and OpenTravel on the opening day of World Travel Market 2012 (5 November).
Speakers at the summit include Paul Richer, Senior Partner Genesys, The Travel Technology Consultancy; Charles Ehredt, Head of Venture Farm & Innovation, Odigeo; Dr. Nicola Millard, Customer Experience Futurologist , BT; Simon Breakwell, formerly of Expedia, now at Uber.com; and Stephany van Willigenburg, Industry Manager, New Products & Solutions, Google.
Important industry players and new entrants with innovative business models will debate the latest developments in travel technology, including topics such as payments and maps.
At the summit, WorldPay will discuss the latest payment and fraud tools that travel merchants can benefit from as they look to increase transactional revenue and reduce overheads.
Reed Travel Exhibitions Director World Travel Market Simon Press said: "Worldpay's core prospects include hotels, travel companies, airlines, booking agents, rental companies and any other travel businesses that transact with customers online – so WTM is the perfect opportunity to meet important players from around the world under one roof.
"As the travel industry looks to grow in new markets, WorldPay becomes strategic to this expansion through the global capabilities it can provide in accessing local markets."
Wickes added: "WorldPay takes the hassle out of business expansion by helping travel merchants grow their revenue streams in global markets. WorldPay accepts payments from markets around the world, offering over 200 local payment methods to ensure that merchants can offer customers their preferred payment method, thus increasing conversion."
As well as travel and aviation, WorldPay has expertise in gambling, digital content, video and retail sectors.
"The travel industry has some of the smallest profit margins in comparison to other industries, making it imperative that the payment processing function optimal transaction rates, " said Wickes.
Joining him at WTM will be Bryan Blake, Travel Business Development Manager UK, and Diederik Van Gool, Travel Business Development Manager EMEA.
Reed Travel Exhibitions, Fiona Jeffery OBE, Chairman of World Travel Market, said: "We are delighted to welcome Worldpay to WTM, the leading global event for the travel industry.
"Worldpay can help the travel trade capitalise on trends such as the increase in tickets being bought via mobile apps, and hotels looking to move away from booking agents. It can also help tackle the problems of fraud and lost payments, so delegates can learn how to improve their bottom line."
The innovation summit takes place on Monday 5 November, from 2.30pm-5pm at Platinum Suite 3, Excel.
About World Travel Market
World Travel Market, the leading global event for the travel industry, is the must-attend four-day business-to-business exhibition for the worldwide travel and tourism industry.
Almost 48, 000 senior travel industry professionals, government ministers and international press, embark on ExCeL – London every November to network, negotiate and discover the latest industry opinion and trends at WTM.
WTM, now in its 33rd year, is the event where the travel industry conducts and concludes its deals.
WTM 2011 will generate £1, 653 million of travel industry contracts, revealed independent research by Fusion Communications.
WTM is owned by the world's leading events organiser Reed Exhibitions (RE), which organises a portfolio of other travel industry events including Arabian Travel Market and International Luxury Travel Market.
In 2010, RE held more than 460 events in 36 countries bringing together more than seven million people from around the world generating billions of dollars in business.
About Reed Travel Exhibitions
Reed Travel Exhibitions (RTE) is the world's leading provider of exhibitions in the travel and tourism industry. Its wide-ranging portfolio of events around the globe covers leisure travel, luxury travel, business travel and the meetings and incentives industry.
In 2011 RTE 13 events were the catalyst for £2, 807 million worth of travel and tourism business deals.
The 13 events are; World Travel Market (WTM), Arabian Travel Market (ATM), International French Travel Market (IFTM), La Cumbre, International Golf Travel Market (IGTM), International Luxury Travel Market (ILTM), International Luxury Travel Market Asia (ILTMA), Asia-Pacific Incentives & Meetings Expo (AIME) (owned by Melbourne Convention + Visitors Bureau), Global Exhibition for Incentive, Business Travel, and Meetings (EIBTM), Gulf Incentive, Business Travel and Meetings (GIBTM), Americas Incentive, Business Travel and Meetings (AIBTM), China Incentive, Business Travel and Meetings (CIBTM) and Business Travel Market.
April 2013 will see RTE launch World Travel Market Latin America in São Paulo.
RTE is a business unit of Reed Exhibitions. In 2011, six million participants attended RE's 500 events in 39 countries covering 44 industry sectors from aerospace and aviation to beauty and cosmetics to sports and recreation.
Reed Exhibitions is owned by Reed Elsevier, the world's leading provider of professional information and online workflow solutions.
About Reed Exhibitions
Reed Exhibitions is the world's leading events organizer, with over 500 events in 39 countries. In 2011 Reed brought together six million active event participants from around the world, generating billions of dollars in business. Today Reed events are held throughout the Americas, Europe, the Middle East, Asia Pacific and Africa and organized by 33 fully staffed offices. Reed Exhibitions serves 44 industry sectors with trade and consumer events and is part of the Reed Elsevier Group plc, a world-leading publisher and information provider and a FTSE 100 company.www.reedexpo.com