Ravi's Winter BBQ, the established international January event in London, coincided with the real weather: snow at its best – I guess that this time the graphic designer who created the invitation hit the spot!
 Nearly 400 international guests were the lucky ones as some others missed their flights due to cancellations and many more couldn't make it due to adverse weather conditions. I had to employ all my strength and the assistance of my stick as my op was shortly due and in these treacherous conditions, I could have ended… earlier in hospital, but I was lucky both ways – the return trip was gratis the Davis' who saved my life, they did!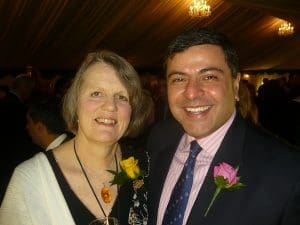 Philippa Wright, Ravis' most trusted lieutenant and her team had organised a simpler than ever event, with a few changes from last year and a very thoughtful cause with a raffle and donations in support for the Royal Museums in Greenwich raising just over onethousand dollars! Over the years, Ravi's charity and philanthropic events included the "Find the Treasure" and other interesting events and initiatives are very touching but also successful!
Guests were greeted by Ravi and Manju Mehrotra's warm smile, then collecting the charity envelope for the charity rituals before being served with a variety of drinks, appropriate for the occasion… and the weather in the main party area under the huge white marquee where the young lady on the dais played tranquil songs with her harp creating the right atmosphere for such an event!
The great and the good were there from all over the world and from all professions – I overheard a young indian lady saying that "…this is Shipping's UN BBQ of the year", and rightly so! The food was as always more than excellent thanks to the flair of KMP …err Kher M Pasha's, the chief chef and his team famous rill and other specialties!
Shipowners, shipmanagers, bankers, insurance brokers, salvage specialists, class society executives, industrialists, lawyers, financiers, government officilas, flag state administrators, IT specialists, media consultants, shipping analysts, marine engineers and naval architects, master mariners, maritime arbitrators, shipbrokers, heads of associations and organisations, IT and communication specialists, maritime educational and academia specialists, charity faithful, heads of museums, marine surveyors, journalists, you name it were there:
Spotted Jim Davis and his wife Hanny, Dr. Nikos Mikelis with his wife and three daughters, Lloyd's Register's Richard Sadler, Costas Fafalios and his wife, John and Anne-Marie Gauci-Maistre, Graham Edmiston, Yiota Gousias from RS Platou in Greece, Malcolm W. Parrott and his wife Joanna, George and Zoe Tsavliris, Nigel Cleave head of Videotel, Jumbo Line's Masoumzadeh, Maritime Arbitrator Ken Maclean and his wife Norma.
Rosemary Gilbert from the Royal Museums of Greenwich, DNV's John Kourmatzis, Richard Meade from Lloyd's List, James Brewer and his wife Graciete Amaro, Parbinder Mahay from Tradewinds, Martin Stopford, Alexandra Willcox from Eggar Forester,  Georgina Leonidou from Hill Dickinson, Image Lines Tom Waters and his wife Sue Terpilowski, and ofcourse Members of the Foresight Group headed by CEO Anil Deshpande. The Indian contingency was as ever the biggest one, amongst them His Excellency Dr Jaimini Bhagwati, High commissioner of Indian embassy in London, Mr Snehal Mehta of Transocean Agency, Mumbai, Mr Achal Kapoor , Vice President of Citibank and Doctor Mohan Kaul from the Commonwealth Business Council!
Excellent, bravo Ravi!