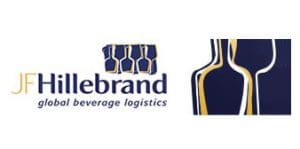 11 November 2013, London – A consignment of wine for global beverage logistics provider JF Hillebrand was the first official container to be unloaded at DP World London Gateway during the evening of 6 November.
The 4, 500 TEU capacity container ship, MOL Caledon, carried the wine from South Africa and became the first scheduled commercial vessel to dock at the UK's newest deep sea port.
On 7 November two JF Hillebrand 'Wine Trains' transported the containers of wine from DP World's London Gateway to Daventry and Bristol. The rail services, by which the majority of JF Hillebrand's deliveries from London Gateway will be made, provide significantly improved service reliability compared to road, minimise the impact on the local environment and avoid congestion to the already heavily utilised UK road network.
David Mawer Managing Director of JF Hillebrand UK, said: "We are delighted that DP World's London Gateway is now operational. It is important for the UK economy and our customers to have a lean, flexible and integrated supply chain, with capacity to support future growth and the trend in global shipping towards larger vessels. Our customers depend on fast, reliable and flexible transit times and so we need to ensure the UK remains attractive to Shipping Lines as a direct call. This requires a flexible and responsive Port network able to accommodate their Shipping Line and landside customers.
David Mawer continued, "DP World's London Gateway meets all these requirements and we look forward to working with the Port to further enhance the service we provide to our customers."
About the JF Hillebrand Group:
The JF Hillebrand Group operates a global portfolio of specialist logistics companies, across a range of industry sectors. The company operates two key brands: JF Hillebrand in the global beverage segment and Trans Ocean in the industrial bulk market.
With a global network headquartered in Mainz, Germany, the JF Hillebrand Group employs 2000 people in 48 offices around the world. In 2012, the company reported a throughput of over 484, 000 TEU's
JF Hillebrand group's head office is located in Thurrock, Essex.