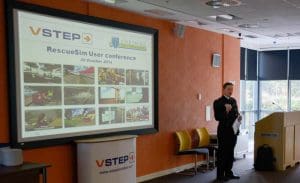 Cheshire, November 13th 2014 – The RescueSim User Conference 2014 saw a successful gathering of industry, defence and emergency response professionals from around the globe engaging in animated group discussions, interactive workshops and best practice presentations during a packed day programme.
Organised by VSTEP and hosted by the Cheshire Fire and Rescue Service (CFRS) at their headquarters and training centre in Winsford, the conference welcomed over 60 RescueSim users from 9 different countries on October 30th, 2014.
The event proved to be the perfect occasion for users to share experiences and learn about new aspects of RescueSim virtual incident command training. The programme focused on RescueSim usability and practical implementation into the training curriculum through interactive workshops, presentations and demonstrations of best practices for virtual incident command training from RescueSim users around the globe. The latest RescueSim features and innovations were on display for users to experiment with in the Innovation Room and the 360° Mission Room marquee.
Frank Dolmans, VSTEP Marketing & Comms Manager: "It was a pleasure to host the 2014 RescueSim User Conference at the CFRS headquarters and training centre and meet our users. The CFRS were wonderful hosts and are true visionaries when it comes to implementation of virtual incident command training. They are constantly pushing the boundaries of the simulator and their training centre is a wonderful showcase of what virtual incident command training with RescueSim can do to enhance the preparedness and safety of professional firefighters and emergency services. Our conference attendees were truly impressed with the facilities here at Cheshire and their response to the day programme on offer was overwhelmingly positive."
RescueSim is a virtual incident command simulator created by VSTEP. RescueSim allows training of any thinkable incident and has additional specialized modules allowing realistic training of Industrial, Port, Underground, Airport, Railroad, Onboard & Offshore Incidents. It is used by governments, companies and emergency services worldwide to train incidents in a safe and realistic way.
The RescueSim conference is a returning event, bringing users of the RescueSim incident command simulator together to share experiences and exchange ideas.
About VSTEP
VSTEP is a leading International developer of simulators and virtual training software. VSTEP creates 3D virtual training applications and simulators that allow people to build their skills in a practical and cost effective way. VSTEP has several core product lines, focusing on virtual incident training for first responders (RescueSim), maritime training solutions for the civilian & military maritime industry (NAUTIS), training simulators to prepare camera operators to identify suspect human behavior before a crime or terrorist attack takes place (EyeObserve) and Crowd Control Trainers providing police commanders and training managers with an effective training tool for crowd-related incidents and demonstrations (Crowd Control Trainer).  www.vstepsimulation.com