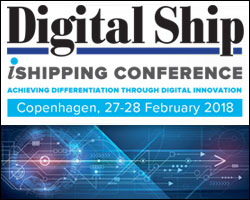 Achieving Differentiation through Digital Innovation
27 & 28 February 2018 – Copenhagen
Given the speed of change in the maritime market, it's no longer enough to look just one year, or even five years, ahead. There is a fundamental shift taking place, with shipping now facing a new landscape, thanks to the Fourth Industrial Revolution, where technology is creating even greater resilience in connected spaces, and those companies that want to maintain competitive advantage must find ways to adapt in order to compete. And in times of turbulent change, strategy and differentiation matter. 
Demands for increase in efficiency, safety and sustainability can be only achieved through innovation. But what does innovation really mean, and how should the shipping industry truly look to the future? What can maritime learn and harness by "creative swiping" from other sectors, and from new entrants to the market. How can Maritime really make digitalisation part of the business agenda?
Confirmed Speakers include:
Anne H. Steffensen, Director-General, Danish Shipping
Jenny Braat, Managing Director, Danish Maritime
Tom Erling Hansen, VP Sales North Europe, Marlink – Maritime
Pia Berglund, Executive Vice-President, Swedish Shipowners' Association
Tiina Tuurnala, Managing Director, Finnish Shipowners' Association
Michael Rodey, Senior Innovation Manager, Maersk Group
Bjørn Borbye Pedersen, Director e-Navigation, Danish Maritime Authority
Michael Card, Deputy Secretary-General, IALA (The International Association of Marine Aids to Navigation and Lighthouse Authorities)
Henrik Hvid Jensen, Growth, Global Trade Digitization, Maersk Line
Peter Sand, Chief Shipping Analyst, BIMCO
Gregor Ross, Sales & Marketing Director – Europe, Globecomm
Håkan Olsson, Vice President, Maritime, Kymeta
Assad Khan, Sales Manager, Telenor Satellite
Jorgen Strandberg, GM ANC Advanced Technology, Wärtsilä  SAM Electronics
Christopher Rex, Head of Research, Danish Ship Finance
Mikkel Hansen, CEO, Maritime Development Center (MDC)
Sue Terpilowski, President, WISTA UK, Chair, CILT Ports, Maritime & Waterways
Rear Admiral Nick Lambert, Director, NLA, Former UK National Hydrographer
James Fanshawe, Chairman, MASRWG
Rob O'Dwyer, Editor, Digital Ship
Lisa Forte, Cyber Security Advisor, Red Goat Cyber Security, and Formerly South West Regional Cyber Crime Unit (Police)
Niels Reuther, Regional Sales Manager, Marlink
Viktor Avlonitis, PHD Researcher, Copenhagen Business School
Cheryl Basil Sequeira, Digitalisation Consultant, Port of Esbjerg
Henrik Ramm-Schmidt, CEO and Founder, Fleetrange Ltd
Jarkko Tiesmäki, Integration Architect , Navidium Plc
Ishaan Hemnani, Head Bunker Broker, BunkerEx Limited
And many more to be announced
Across two days and four clearly defined sessions, these issues will be addressed at Digital Ship's iShipping Forum in Copenhagen – where we will delve into the complexities and outlook of Maritime's digital future.
Session 1: Disruptive Technologies, Sustainable Thinking
Market place review, recent developments, and catalysts for change
Blockchain: Changing the face of global trade
Autonomous shipping and the digital twin: Evolution or revolution?
Smart shipping – Addressing Maritime's fourth wave
Session 2: Aligning Practical Concerns with the Digital Landscape
Driving business change and investment
Making digitalisation part of the business agenda
Standardisation and regulation
Building cyber resilience within the business case
Session 3: Building Digital Competence and Measuring Impact
Creative swiping from broader industry:
o    Ports and terminals, Supply chain and logistics, Energy, Aviation, Banking and retail
Measuring the human impact and managing resistance
Translating guidance into training and education
Session 4: The Pioneers' Showcase – Accelerating Maritime Transformation
Shipping is still one of the most traditional industries, but the speed of change in the maritime sector is providing a real opportunity for new entrants to the market. With even CMA CGM creating their own start-up incubator, it is clear that we need fresh influence to accelerate much needed maritime transformation.
This session will provide a platform for start-ups with demonstrable traction and pitch to join the discussions around Maritime's digital future. With the opportunity for first-mover advantage, this is the time for new entrants to make themselves known, and demonstrate how they can help the shipping sector harness all that digital innovation has to offer.
Please see https://www.copenhagen.thedigitalship.com for more details