GORDON FOOT – Awarded the 2021 Merchant Navy Medal for Meritorious Services
Gordon Foot MA MSc FNI FIMarEST FCMI FILM FIIRSM
Mr Gordon Foot, has been awarded with the 2021 State Award for services to maritime career promotion which includes his work as an ambassador for Maritime UK as part of the 'Inspiring the Future' schools outreach program and in mentoring, championing women at sea and acting as a voice for those seafarers affected by the pandemic crew change crisis which is invaluable.
Gordon was nominated by a group of colleagues because of his passion for helping others, both the offshore industry and the global seafaring community at large, his work in shipping and his versatile life-long learning achievements within the industry. Gordon is an offshore shipping professional, constantly in movement, while working away or even in quarantine. He is also a student, mentor, teacher, advocate for seafarers and women rights within the maritime.
Gordon Foot, who is 57 years old, has been in a seagoing capacity for 39 years. He has served at sea in both the Royal Navy submarine service and latterly the Merchant Navy.
Gordon originates from very humble beginnings and it is especially dear to his heart to assist those children who come from challenging backgrounds.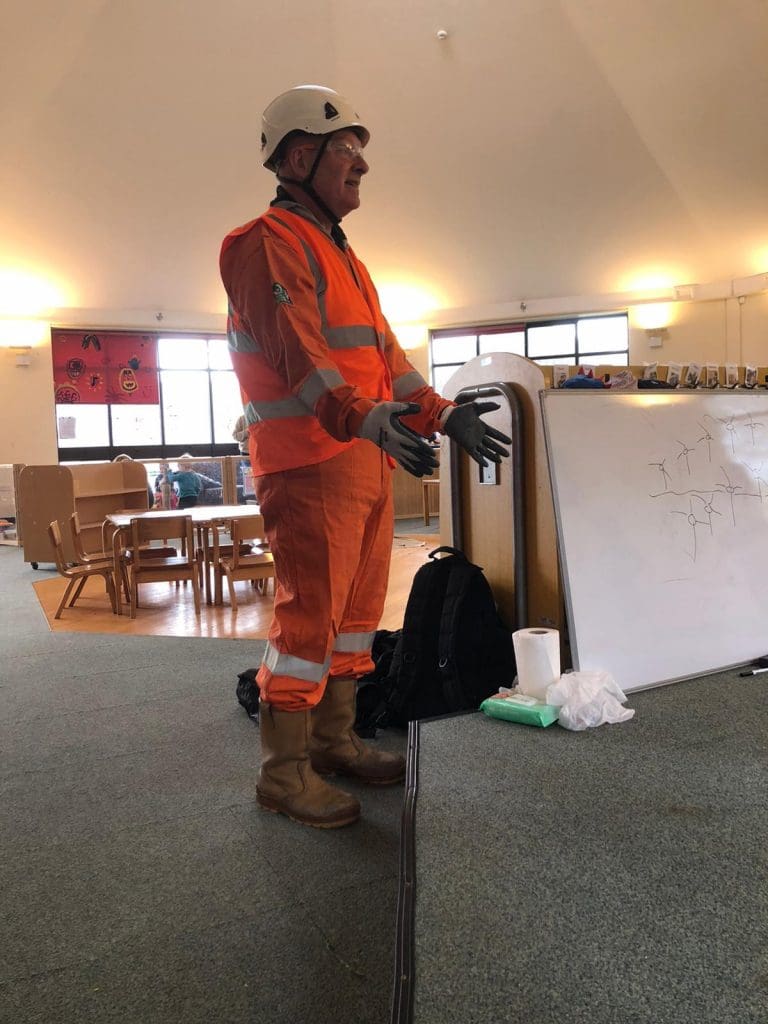 He found academia relatively late in life (self-funded and as a personal challenge) but has made a significant contribution to knowledge in the maritime domain through his studies. Gordons was awarded by the Middlesex University/ Marine Society Outstanding Achievement Award 2017 and also awarded the Marine Society Life Long Learning Award 2017.
For over 20 years he has been employed within multiple merchant ships across many disciplines servicing the offshore critical infrastructure (energy) industry. He is appointed as a consultant senior client representative supervising offshore renewable energy construction mega projects. He is an advocate for mentoring, women at sea, a champion and voice for those seafarers affected by the pandemic crew change crisis and an active ambassador for the Maritime UK schools outreach program 'Inspiring the Future'. He promotes safety leadership, maritime safety and presents on seafarer mental health and wellbeing.
As a maritime ambassador for Maritime UK for the Inspiring the Future school's careers outreach program assisting schoolchildren to widen their horizons with regard to maritime careers, breaking down stereotypes and aids in diversity and inclusion within the industry.
Gordon belongs to many institutes and volunteers across multiple NGOs, charitable organisations and membership groups and assists all these maritime and safety related groups. As a strong advocate for both safety leadership, mentoring at sea and women in the maritime I know his voice will continue to join with others in championing these causes.
This award is not just to recognise his near four decades of seafaring but rather to acknowledge, as a humble person, the personal time, energy, knowledge and experience sharing and endeavour that he has willingly, freely and for the most part silently put into affecting others' lives for the better.
When in UK he lives in Devon with his family.
ABOUT THE UK MERCHANT NAVY MEDAL FOR MERITORIOUS SERVICES
On 2nd September 2016, John Hayes, the shipping minister at the time, announced the first recipients of a Merchant Navy Medal for Meritorious Service.
This state award, with a place in the order of wear, is awarded to those who are serving or have served in the Merchant Navy and fishing fleets of the UK, Isle of Man or Channel Islands for exemplary service and devotion to duty, rewarding those who have set an outstanding example to others.
Eligibility for the medal is limited to those who have served, or are serving, in the Merchant Navy or Fishing Fleets of the United Kingdom, Isle of Man, the Channel Islands and the British Overseas Territories and have shown devotion to duty and exemplary service, which has been of particular value and has constituted an outstanding example to others.
Recipients of the medal will normally be required to have completed 20 years' good conduct and exemplary service, although in exceptional circumstances the period of service may be less.
The maximum number of awards of the Merchant Navy Medal for Meritorious Service that may be made in any one year is 20. In 2021 only 16 awards have been granted. Please see here the awards nomination official link https://assets.publishing.service.gov.uk/government/uploads/system/uploads/attachment_data/file/1010113/merchant-navy-medal-winners.csv/preview