by Frances Baskerville*
The 2022 POSIDONIA event at the Metropolitan Expo, off Athens' Eleftherios Venizelos Airport, felt as if the world had come back to life again. There was no discernible difference between this event and the ones of years before other than that it was busier than I remember; everybody was very light-hearted and happy to be able to talk with others – life was restored to normality with a large dose of unwavering support from the maritime community highly evident.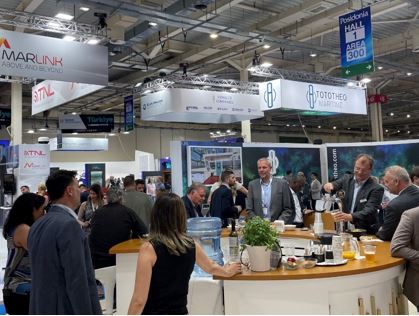 All four halls had combinations of very big individual stands and national pavilions where budget clearly had not been a problem to them, to a much smaller more usual infill stands where combinations of companies were joined together to make economic sense. An extensive programme of events throughout the week, both within the venue and off site meant that the usual chaos ensued outside with taxis or transportation but we all shared and managed well in the heat that at one point gave rise to a monumental thunderstorm with spectacular lightening – not to deter the party goers that night who withstood it all…
Although the sight was, like all trade shows, spectacular in its vastness, sadly, I learnt that all the builds and collective rubbish, including the boardings flooring and anything else that made up a stand would he sent to landfill. In Greece it seems that there is little or no recycling and, having spoken with several of our companies and other individuals they confirmed that all domestic waste is not recycled but sent away into the outback for our next on generations to deal with. I was lucky enough to spend some personal time in the Peloponnese just before the show, and it was just the same there as in Athens and its outer regions – a quite extraordinary situation for this day and age and someone should address this issue immediately!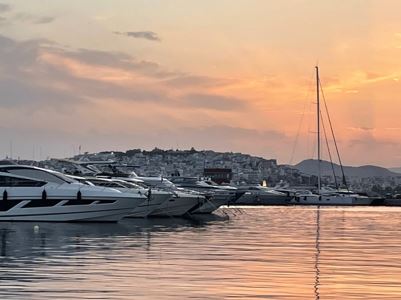 Back to the show, we had many members attending, either on their own stands throughout the four halls, or walking the floor as we were. There's a renewed sense of confidence palpable. Business appears to be good although there are issues with supplies of component parts, which we heard may take up to three years to stabilise. There is availability of completed stock but forward planning and manufacturing is becoming problematical. Members need support in this area CIRM are considering how to assist with this issue at the IMO.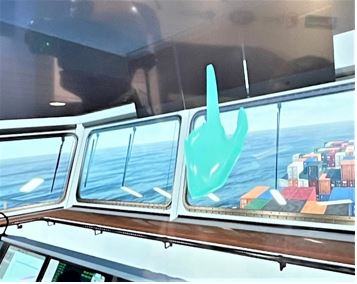 AI technology developments were very prominent. Several companies including the more advanced research institutes were proposing the usual headwear for training purposes. Very sophisticated systems have been designed for bridge console training; we may be able to have a demonstration of this for you in Malta in October (17-21). Many of our members said that they were keen to come to Malta and give a presentation so, all in all, things are looking positive. By the way, if CIRM members reading this would like to display their equipment, or have a banner or table space, we will have plenty of space in Malta. The more the merrier and, and it's free. We are planning on inviting some Maltese ship owners and other guests to an evening event during the conference and so they will be interested to see what's on offer from the membership
At Posidonia, it was evident that integration, software reliability and cyber is high in the minds of the maritime community. A plethora of broadband or connectivity suppliers were present and we met with quite a few new (to CIRM) companies who showed good interest in our work. As usual, regulatory issues come to the forefront but we are receiving more and more requests to help with collaboration or publicity. Distributors are not currently members of CIRM which is a shame (there were many there), since joining would give them opportunities for new business. But of course, the stand out displays of food and wares were from ship owners, class societies and our members! Everyone had made a huge effort to return to normality, but with a bang.
My very kind host, the distinguished co-owner of this publication himself, went down straight afterwards with one of the Covid strains… hardly surprising really when from lunch onwards, the halls were crammed with people just about everywhere you went. Nearly 2000 exhibitors took part and visitors from all over the world aiming to network and attend the conferences or seminars added up to approximately 27,000 persons walking through the show … and the 2024 show is already planned for June 3 – 7, ( pandemics permitting).
_
*Frances Baskerville is Senior Vice President at CIRM. Companies interested in www.cirm.org are welcome to contact her on fb@cirm.org for further information
NB. A big THANK you as Frances Baskerville helped us in our editorial tasks with useful info and pictures as well as in our exhibition and social events survey