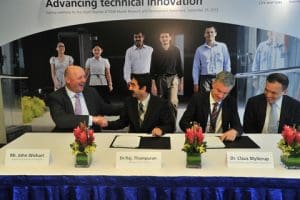 Long-term collaborative agreement brings together business, academia and public R&D agencies
Lloyd's Register has established a world-class Group Technology Centre (GTC) in Singapore to deliver innovation and solutions to the energy and maritime sectors. It has also reached an agreement with the Agency for Science, Technology and Research (A*STAR) to collaborate on R&D projects as a key part of the centre's activities.
The intent is to establish a Joint Lab facility with A*STAR's Institute for High Performance Computing (IHPC) to co-develop applications and solutions in the marine and offshore sectors. This arrangement will promote R&D activities in modelling and simulation, providing bespoke technical solutions for companies in these sectors.
To encourage the development of technical expertise and young engineers, PhD students will be trained at the GTC during the programme's initial five-year period. These students will be working on R&D projects between the technology centre and Singapore's institutes of higher learning such as the National University of Singapore and Nanyang Technological University.
"Our investment in the new Lloyd's Register Group Technology Centre in Singapore, coupled with the agreement with A*STAR, represents a shared vision to create a long-term centre of excellence for technology, innovation and research that will benefit Singapore, industry and society at large, " said Richard Sadler, Chief Executive Officer of Lloyd's Register. "It underlines our global commitment to understanding the sciences and technologies that help to ensure that people are safe and that essential assets perform as required."
"The collaboration between Lloyd's Register and A*STAR demonstrates common interest to develop technologies to boost developments for the energy and maritime sectors. This partnership marks an important milestone in driving innovation and technology solutions for these key sectors, " said Dr. Raj. Thampuran, Managing Director of A*STAR. "Exciting areas of research include modelling and simulation; designing floating offshore structures, deep-sea drilling equipment and transportation, maritime safety and environment, and marine energy harvesting. This relationship will grow stronger over time and contribute significantly to the growth of these sectors.  I am confident that outcomes from our research collaboration will be keenly watched by key industry players."
"Promoting innovation through research and development is absolutely fundamental to Lloyd's Register's public-benefit mandate, " Sadler said. "Along with our Group Technology Centre at the University of Southampton in the UK, the Singapore GTC will serve as a cornerstone for our global research-and-development network, which currently includes 48 academic and technical institutions sponsored by The Lloyd's Register Educational Trust."
The capabilities and resources of the new centre will be scaled up over five years to work on mutually identified projects between Lloyd's Register and A*STAR under the new research agreement. Investment in this new centre is expected to reach US$35 million. By year five, up to 150 full-time engineers, researchers and doctoral students will be jointly employed and working together with industry on projects of mutual interest.
"This strategic initiative will further strengthen the technological readiness of our organisation, " said John Wishart, Lloyd's Register's Global Energy Director. "It will help to ensure that our energy and marine clients receive innovative technical solutions to maintain their competitive edge and sustain their leadership positions going forward."
Singapore's marine and offshore industry has grown significantly over the last few years, recording an output increase of more than 30% from 2006 to 2011, contributing to 5.8% of Singapore's manufacturing output.
A*STAR's cooperation with Lloyd's Register, the world's first classification society, provides a strategic platform to develop key research capabilities in this sector.
We attach herebelow the speech of John Wishart, made today on behalf of LR's CEO, Richard Sadler. What's notable here is the disclosure that LR has spent £170m on acquisitions in the energy sector in the past four years, buying companies like West Engineering, ModuSpec and Scandpower. Do log on and read: LR SPORE 25092012
Lloyd's Register provides independent assurance to companies operating high-risk, capital-intensive assets in the energy and transportation sectors. We enhance the safety of life, property and the environment by helping our clients to ensure the quality construction and operation of critical infrastructure.
The Agency for Science, Technology and Research (A*STAR) is Singapore's lead public sector agency that fosters world-class scientific research and talent to drive economic growth and transform Singapore into a vibrant knowledge-based and innovation driven economy. In line with its mission-oriented mandate, A*STAR spearheads research and development in fields that are essential to growing Singapore's manufacturing sector and catalysing new growth industries. A*STAR supports these economic clusters by providing intellectual, human and industrial capital to its partners in industry.
A*STAR oversees 20 biomedical sciences and physical sciences and engineering research entities, located in Biopolis and Fusionopolis as well as their vicinity. These two R&D hubs house a bustling and diverse community of local and international research scientists and engineers from A*STAR's research entities as well as a growing number of corporate laboratories.
For more information about A*STAR, please visit www.a-star.edu.sg.